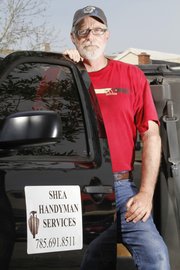 4700 Moundridge Ct. • 785-691-8511
The competition was tough in the balloting for the best home handyman in Lawrence.
One of the most frequent nominees in the category was "My Husband," who actually finished in third place. Unfortunately, there is no telephone listing in Lawrence under the name "Husband, My."
But it didn't really matter, because Pat Shea, owner of Shea Handyman Services, was the hands-down winner.
"I just enjoy working with people," said Shea, who runs his business from a telephone and a pickup truck. "I like being there when I've been asked to be there."
When Shea started the business in 2009, he was prepared to do almost almost any kind of minor home repair — "drippy faucets, running toilets, sticky doors, cabinets that won't close right, that sort of thing."
Since then, though, he's gone out to perform tasks he never imagined anyone would need, like the time someone called to have him empty a mouse trap. Still, he responded and dutifully disposed of the dead rodent.
But those kinds of requests are unusual, he said. Most of the time, he focuses on the kind of improvements and repairs that every homeowner encounters, but which many lack the tools, the skills or perhaps even the time to tackle themselves.
—Peter Hancock, phancock@ljworld.com
Runners Up