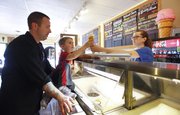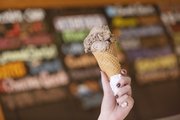 Sylas & Maddy's Homemade Ice Cream
1014 Massachusetts St. • 785-832-8323
If you're looking for ice cream flavors like "Rock Chalk Jayhawk" and "Peanut Butter Freak" served in handmade waffle cones, Sylas and Maddy's Homemade Ice Cream has been the place to go since 1997. Customers crowd the ice cream shop. Workers grab a sinful snack on break. College students come for a cheap Tuesday night date.
"There's certain flavors, I don't know what it is about it, but they taste better in a waffle cone," says Sarah English, who manages the store.
English believes the store's authenticity is the secret to its success. English and her employees make the ice
cream fresh on Mondays, Wednesdays and Fridays with ample amounts of cream and sugar.
English said another selling point is the nostalgia Sylas and Maddy's provides for many people. She said customers often come in to relive memories, from first dates to celebrations.
"We've had kids that have gone to school here, and now they bring their kids back," she said. "That's how we make it. It's word of mouth and people keep coming back."
—Adam Strunk, astrunk@ljworld.com
Runners Up
Orange Leaf
ColdStone Creamery