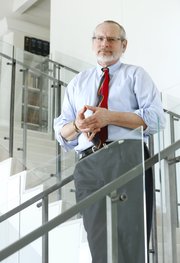 The Law Office of David Brown LC
1040 New Hampshire St. • 785-842-0777
For a profession known for being stuffy, Lawrence attorney David J. Brown bucks the trend, at least from a fashion standpoint. To some degree.
Sitting in his colorfully decorated office recently inside the historic English Lutheran Church, at 1040 New Hampshire St., Brown wears the conservative attire of a typical lawyer: dress shirt, slacks and tie. But look south, and you'll see his trademark cowboy boots. Inside those boots reside a colorful pair of socks, his trademark. Add in a braided pony tail, and you get a look that once landed him as a subject in the LJWorld's 'Style Scout' series.
"I just like crazy socks," said Brown, a New York native who's practiced law in Lawrence since 1992.
Though he started out as a criminal defense attorney in Lawrence, Brown focuses most of his time now in family matters, drawing up wills and handling custody cases.
Brown spent several years as a journalist before going to law school, and he said that experience helps him keep a level head, though domestic cases can get a little heated.
"I like the idea of being able to help people in crisis mode," he said.
— Shaun Hittle, sdhittle@ljworld.com
Runners Up
Richard Frydman, Attorney
Law office of John Frydman
More like this story on Lawrence.com