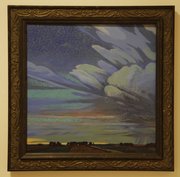 Stan Herd
Stan Herd was accosted on the street in Lawrence once by a friend who told him, "Herd, stay out of the damned paper!"
His buddy will have to wait another issue.
One of the cities' most recognizable artists, Herd has for more than four decades been creating Earthworks, in which he plants, plows and mows images in crops, much of the time in Kansas. He's also involved in film production, and his 21-year-old son, Evan, plays in a band. It's all part of Herd's mission to make Lawrence a destination for creative people the world over.
"My ideal situation is to have all of this interconnectivity between film, art and music, and Lawrence is probably the best place on the planet for that," Herd said. "It's a great opportunity for people to create, whether you're a poet, sculptor, writer or painter."
It's the type of community — socially progressive, with lots of culture and intellectual activity — Herd was looking for when he and his then-wife moved here nearly a quarter-century ago.
The artist has recently been helping turn East Lawrence into a hub of creativity, creating an outdoor events space ("Gateway") outside the Cider Gallery, at 810 Pennsylvania St., in the new Lawrence Warehouse Arts District.
All of these years later, Herd says the art scene in Lawrence is as vibrant as ever.
"The 'prairie renaissance' is what I call it," he said. "There's a lot of creative energy in the state. People are intent on staying here instead of going to the coasts. People are moving back from the coasts to Lawrence, Kan."
— Giles Bruce, gbruce@ljworld.com
Runners Up
John Sebelius
Molly Murphy
More like this story on Lawrence.com