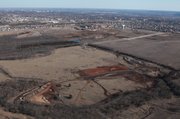 Recreation Center
It has been Lawrence's $25 million soap opera.
City commissioners are moving ahead with a 181,000-square-foot mega-recreation center for northwest Lawrence, but not before discussion of the project has filled the message boards, editorial pages and coffee shops of the city.
Perhaps the passion the issue has produced should come as no surprise. It has a lot of the elements of a good daytime drama. There's the mighty and the powerful: Kansas University Athletics and the Kansas University Endowment Association are partners with the city on the project and the adjacent Rock Chalk Park complex.
There's the local businessman who is cheered by some and jeered by others: Lawrence developer Thomas Fritzel also is a partner. He's been involved with successful projects like The Oread and The Eldridge hotels, but also has drawn criticism for his handling of the The Varsity House project near campus and for his involvement in a troubled land deal in Junction City.
Then there are the twist and turns: The city originally was going to award a no-bid contract to Fritzel to build the recreation center, but public outcry caused that portion of the deal to be changed — sort of. The millions of dollars worth of roads, parking lots and other infrastructure still are being awarded on a no-bid basis to Fritzel.
But perhaps the biggest twist has been the city's decision to not put the $25 million project up for a public vote. It is the largest project in recent memory to move forward without a citywide election. But a majority of commissioners defended that decision because the project is being funded by an existing sales tax, rather than a tax increase.
That's been the final piece of the drama: A city that has held to its guns.
"We have stuck with that decision, and sticking to a decision even when there is controversy, is what leadership is all about," Mayor Mike Dever said.
— Chad Lawhorn clawhorn@ljworld.com
Runners Up
South Lawrence Trafficway/Wetlands
Gov. Sam Brownback
More like this story on Lawrence.com