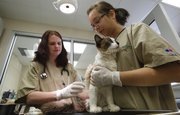 1805 E 19th St. • 785-843-6835
From 2011 to 2012, the Lawrence Humane Society increased the rate at which it places animals from 49 percent to 85 percent.
Executive Director Dori Villalon thinks the shelter can do better still.
Walk into the shelter, and you'll see why it's so highly regarded. It's clean, gives animals double the normal cage space and has a doctor vaccinating and fixing furry creatures full time.
Villalon says the organization has been so successful because she runs it like a for-profit company, utilizing tools like metrics, strategic planning and state-of-the-art software.
"It's great that we all love animals," she said, "but you've got to take that compassion and put your business hat on."
The shelter has been effective largely because of community support. The Humane
Society has 320 volunteers, works with 100 foster homes and relies on donations for nearly three-quarters of its budget.
Villalon said the shelter works with owners to find their ideal pet, not put them through an extensive character review; as she says, she isn't going to interview your grandmother.
"We like to make relationships and trust people," said Operations Director Katy Hollingsworth.
If you don't want a new pet, you can always stop by and visit. Check out Catopia, a room in the shelter where the felines roam free.
It's another example that the Lawrence Humane Society does things differently. And the community is noticing.
— Giles Bruce, gbruce@ljworld.com
Runners Up
Lawrence Arts Center
Van Go Inc.