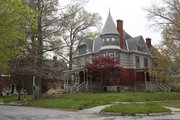 Old West Lawrence
Kirk McClure, president of the Old West Lawrence Association, says he knows why his neighborhood was voted the best in town: It has some of the most beautiful, iconic homes in the area, is walkable because of its close proximity to downtown and features the best-looking trees in Lawrence.
Old West Lawrence, which stretches from Sixth Street to Ninth Street and Kentucky Street to Missouri and Arkansas streets, has a long, storied history, earning it a listing on the National Register of Historic Places.
The town's elite traditionally resided in the neighborhood, making it a target for Confederate leader William Quantrill in his 1863 raid; his soldiers destroyed many of its homes. A house at Seventh and Tennessee was once a hotel that served as an oasis on the Santa Fe Trail ("When you left that hotel, you didn't hit civilization for a very long time," McClure said). A building at Eighth and Ohio used to be the city hospital.
Residents have periodically feuded with city officials over business expansion. "I'm one of those who firmly believes that a city is only as healthy as its neighborhoods," McClure, a professor of urban planning at Kansas University said. "Too often our leaders kowtow to development."
Every summer, Old West Lawrence residents have a block party, and garage and art sale. Neighborhood association meetings are well-attended. Block captains pass out a copy of
the Old West Lawrence newsletter to each and every home. "It's a close-knit neighborhood," McClure said.
— Giles Bruce, gbruce@ljworld.com
Runners Up
East Lawrence
North Lawrence