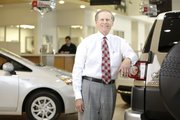 Crown Automotive: Toyota Scion Volkswagen
3400 S Iowa St. • 785-843-7700
Crown Toyota owner Miles Schnaer can sound more like a coach than a businessman.
He rapidly shoots out old sayings you could picture a football or basketball coach reciting on the first day of practice.
"You can't get anything in life without working for it," he says. "To be successful, you have to be committed to it."
But for Schnaer, who's owned car dealerships for the past 30 years in Decatur, Ill., Olathe and now Lawrence, the sage advice applies to selling cars.
In the car business, work, commitment and success start in the community, not the showroom.
That's why Schnaer stays active with local nonprofits, such as Cottonwood and Bill Self's Assists Foundation. He tells his salesmen the same thing: Make your community a better place, and the sales and commission will follow.
"If you don't treat people right, they won't come to your business," Schnaer says.
—Shaun Hittle, sdhittle@ljworld.com
Runners Up
Laird Noller Automotive
Jack Ellena Honda