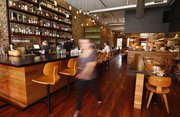 715 Massachusetts St. • 785-856-7150
There are plenty of dinner spots on Massachusetts Street to choose for a first date, but locals say 715 Restaurant is the best.
Maybe it's the dim lighting and the candlelit tables or the well-stocked bar, with a variety of Italian and French wines, from the red Alma de los Andes to the white Stoneleigh Suav Blanc.
At 715, staff say they are most proud of the locally sourced handmade dishes served up from chef Michael Beard. Watching Beard and his kitchen staff work in 715's open kitchen might give you and your date something else to make small talk about while you wait for your prosciutto crostini, an appetizer of San Daniele prosciutto cheese sliced paper thin — and they mean paper thin — over a grilled baguette.
The portions at 715 are often not as large as at other restaurants, so you'll probably have room for the main course, which you'll want if you ordered something as rich as the rabbit ravioli, a "rare hare rabbit confit," with parsnip and goat cheese pureea and herbed olive oil.
Who knows? If things go well, you might come back for brunch and try the quiche of the day.
But if your date is on a weekend evening, you'd be well advised to call ahead and make reservations. The foyer tends to fill with waiting couples on Friday and Saturday nights.
— Ian Cummings, icummings@ljworld.com
Runners Up
More like this story on Lawrence.com