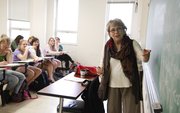 Mary Klayder, University of Kansas
Printed across the bottom of a notepad on Mary Klayder's desk are three words: "It'll be fine."
And that's what she tells her students when they come sit on the wicker chair in her office and she spins her seat around to talk with them.
Klayder, a University Honors Lecturer and associate director in the English department at Kansas University, teaches English courses and leads study-abroad programs for students in KU's Honors Program. So her students are often strivers with eyes trained on their career goals, and Klayder considers it her mission to help them slow down and think about the world around them, and themselves, from time to time.
"They sometimes get so caught up in this path of what they're supposed to do," said Klayder, who has taught at KU since coming in 1985 as a graduate student, after leaving her job as a high school English teacher.
She selects books with weighty ideas for her students to read, and during class she prods them to have tough conversations. After students return
from her study-abroad trips to Costa Rica or the United Kingdom (Klayder will embark on her 33rd such trip this summer), she has them reflect on their experiences.
"They're going to explore another country, but they're also exploring themselves," said Klayder, who in 2009 won KU's annual Honor for an Outstanding Progressive Educator (HOPE) Award, given by students.
She recalls a moment near the end of one Costa Rica trip, on a beach, when she approached one of her students, a bright young woman excelling as she worked to become a nurse. Klayder asked her what she was thinking as she reflected on the trip.
The student replied: "I don't want to be a nurse." Now she's studying psychology, Klayder says.
It goes to show that sometimes it takes time to figure out things like goals and careers, Klayder said. In short: It'll be fine.
—Matt Erickson, merickson@ljworld.com
Runners Up