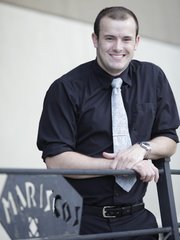 4821 W 6th St. Suite A • 785-312-9057
Mariscos Restaurant server William Taylor says he values good service and he tries to provide that in his work. His customers in Lawrence have noticed.
Taylor has worked at Mariscos for five years. He began as a host while he was still in high school and eventually was able to convince the owner to let him serve. He caught on quickly and has been serving for three years.
"Understanding your customers and building a relationship with them, knowing your product well, being able to sell it, stand by it and believe in it, and being personable are all important," Taylor said.
Taylor is a student, so he doesn't serve full-time. But he works about five evenings shifts a week, giving his regular customers plenty of time to catch him.
Mariscos owner Nancy Renfro said Taylor's genuine interest in people and his natural ability to understand what a customer needs make him popular, and he is often requested by customers. She said he knows how to connect with people — and as a result, his customers leave glowing comment cards.
"Getting to make (customers') experiences enjoyable and getting good reviews makes me feel good," Taylor said.
—Meagan Thomas, mthomas@ljworld.com
Runners Up
Leslie at FreeState
Alan at Oriental Bistro