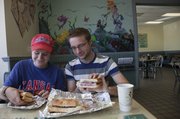 1814 W 23rd St. • 785-843-6000
Sandwich shops come and go. Yello Sub remains.
The Lawrence sub shop has been open in various locations since the late '70s and remains a local staple while competing with large national chains such as Jimmy John's, Subway and Quiznos.
Co-owner Donny Keen said that two things keep the joint going: thick homemade sandwiches and quirk.
"We slice our stuff and still use real meat. Not any turkey-based products," he says. "As far as health goes, it might not be the healthiest, but it's real food."
For those wanting something a tad healthier than the best-selling Yello Sub — four kinds of meat, Swiss cheese and all the fixings — the restaurant has a robust veggie menu featuring 14 different sandwiches.
Keen describes Yello Sub as a laid-back
Lawrence joint, not some corporate place with clean white walls. Indeed, most of the inside of the restaurant is painted to resemble a cartoonish ocean scene, playing off the Beatles' "Yellow Submarine," from which the restaurant derives its name. Huge tropical fish watch hungry diners in an aquarium built into the wall.
Customers hold playing cards while waiting on their sandwiches to be completed. When your card is called, the order is done, and a hefty homemade sandwich is ready to be devoured.
"You spend a little more money here, but what ends up between the buns, there is something there," Keen says. "If you're a starving student and need a filler, there you are."
—Adam Strunk, astrunk@ljworld.com
Runners Up