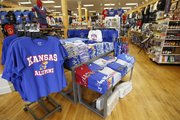 921 Massachusetts St. • 785-841-1300
For Kansas Sampler, license plate holders are a big deal.
Sure, the store also has T-shirts and other apparel, but according to Andrea Carroll — director of marketing for Kansas Sampler and Rally House — it's the attention paid to other items that also keeps Kansas University fans coming back.
"What we want to make sure, when it comes to license plate frames, is that we don't just have the two that everyone else has; we'd better have seven," Carroll said. "If we can get a license plate frame in crimson and blue, we'd better make sure we can get it with rhinestones on it, or something along those lines. We want to make sure we're catering to every single fan."
Kansas Sampler also has been able to keep a wide selection of KU items because it has the ability to produce its own designs. The store works with the vendors who make its products, ensuring that its apparel, drinkware and other items are exclusive.
The store also is open to ideas, as it has added merchandise in the past based on feedback from customers. The company has been producing KU items for more than 20 years.
"We feel like we have a good sense," Carroll said, "of what KU fans are looking for."
—Jesse Newell, jnewell@ljworld.com
Runners Up
KU Bookstore
Jock's Nitch