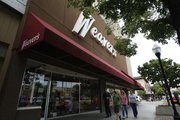 901 Massachusetts St. • 785-843-6360
Weaver's Department Store isn't just another clothing store on Massachusetts Street; it's a Lawrence landmark. With more than 155 years of service, the store has gathered a loyal clientele and has built a longstanding reputation.
"It's an older department store but I can come and find all kinds of stuff here," Susy Felts, a Weaver's customer, said.
Weaver's keeps up with the latest fashion trends through a partnership with a New York consultant that helps the store follow trends and offer the newest fashions right here in Lawrence.
Weaver's President Joe Flannery said the store greatly values its relationships with customers, and its policies reflect that. If for some reason customers aren't pleased with their purchases, Weaver's has a no-hassle return policy.
The store also offers services for customers including free year-round gift-wrapping, free delivery and shipping to any location in the United States.
But what's the real secret to the great service at Weaver's? Flannery said it's the exceptional employees.
"We have associates that want to make sure each and every customer leaves Weaver's with a good experience," he said.
---Meagan Thomas, mthomas@ljworld.com
Runners up
Women's Clothing store
Men's Clothing store