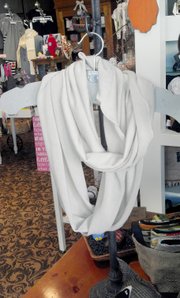 737 Massachusetts St. • 785-749-1162
In 2011, Jennifer Richards decided to turn her passion for handmade items — making, buying and selling them — into a business. She had no idea it would receive the reception it has from the community: Made has been voted Best of Lawrence 2013's best new business.
"I hoped people would like the store when I opened it," says Richards, who operates the shop with her husband, Matt. "I really have been overwhelmed by the response."
She shouldn't be too surprised. The Richardses put a lot of thought and time into carrying a wide array of interesting handmade gifts from across the country, constantly tweaking the design of the store to give customers a fresh experience every time they visit.
The Richardses say customers seem to enjoy purchasing items made by real Americans with real stories: the local guy who operates a candle business at night in the hopes it can become his day job, the husband and wife from Tennessee who design minimalist movie posters, the San Francisco woman who left a career in finance to craft greeting cards. In all, Made sells the works of about 150 artists, with roughly a fifth of them local. "Lawrence is a great place to find a lot of talented people," Richards said.
— Giles Bruce, gbruce@ljworld.com
Runners Up
TenThousand Villages
El Potro Mexican Cafe