A Lawrence-based trio of young musicians is performing in New York City today after winning Grand Prize in the 2013 National Young Artists Chamber Music and Ensemble Competition, sponsored by the National League of Performing Arts.
Trio Aër is made up of Lawrence residents Dana Rath, 13, and Chaeyoung Park, 15, as well as Olathe resident Emily Shehi, 14. The girls play the cello, piano and violin, respectively, and have been a trio for two years.
The group was started by Kansas University Professor of Piano Scott McBride Smith after he'd been giving lessons to Chaeyoung.
"The bad thing about piano is you're always by yourself, and I knew the trio would be a fun experience (for Chaeyoung)," Smith said.
Smith called around asking other area music teachers who their best musicians were. It resulted in finding Dana and Emily, and the three began meeting with Smith weekly.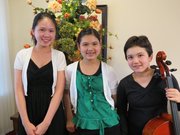 The girls agreed that although it was awkward practicing with strangers at first, they've grown into friends and enjoy working and learning together.
"I really like being able to make something beautiful with other people," Dana said.
The group members were each talented with her own instrument, Smith said, but working as a trio gave them the opportunity to learn what it is like to play with other people on different instruments.
"You have other people to consider; it's not just how well you can play this piece," Emily said.
Trio Aër has been working on the piece they won the competition with — composer Anton Arensky's Piano Trio in D Minor — for almost a year and a half.
Smith said it sounds like a long time to work on one song, but the group didn't continuously practice it. They'd work on it one week and then take a few weeks off. This helped to keep the girls familiar with the song but not so familiar that it became boring.
They entered the competition in mid-May and results were posted by May 20.
Emily was the first of the trio to find out they'd won the competition and quickly passed along the news to her fellow group members.
"(Emily) texted me and was like 'OMG' and then told me we won," Chaeyoung said. "It was really exciting."
Dana, Chaeyoung and Emily are excited for their performance and to experience as much of New York City as they can in the two days they're there — specifically the food and music.
The three will perform the Arensky piece today at Merkin Concert Hall in Kaufman Music Center in New York.
The group's next recital in Lawrence will take place in the fall and the trio plans to enter more competitions next season.