Photo Gallery
Mask collection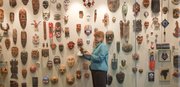 A collection of more than 180 masks was given to Theatre Lawrence by Eleanor Woodyard and her late husband, George Woodyard.
Jan and Jack Gaumnitz Gallery
In addition to George and Eleanor Woodyard's mask display, the new Theatre Lawrence lobby is home to the Jan and Jack Gaumnitz Gallery.
The gallery space features four walls, with exhibits expected to change with each new show opening at the theater, executive director Mary Doveton said.
The first exhibit features work by 10 well-known Lawrence-area artists, including Stan Herd and Roger Shimomura.
The walls of Eleanor Woodyard's study suddenly seem very, very bare.
More than 180 colorfully adorned visitors from across the globe that once smiled, frowned and grimaced at Woodyard and her late husband have taken up residency elsewhere — a place they'll undoubtedly be able to make more friends.
The Woodyards gave their mask collection to Theatre Lawrence, and it's now displayed in the lobby of the new theater at 4660 Bauer Farm Drive.
"I've been looking forward to having them to share with other people because we have enjoyed them so much," Woodyard says.
Judy Heller, a music and sets volunteer for Theatre Lawrence, helped pack, move and install the masks in their new home, which celebrated its grand opening earlier this month.
The installation is pretty easy to relate to, Heller says. After all, each mask has its own personality.
"We just became friends with them as we were putting them on the wall," Heller says.
The collection began in 1985, with a "very interesting" multi-colored horned animal mask from the Dominican Republic, Woodyard says.
Her husband, George Woodyard, who died in late 2010, was a Kansas University Spanish professor on sabbatical at the time. He also was KU's first dean of international studies and programs and the founder of the Latin American Theatre Review journal, so the couple did a lot of traveling.
After deciding to collect masks from their trips, they amassed specimens from nearly every continent.
At Theatre Lawrence, Heller says, they "went around the world" and grouped masks by locale. The collection includes both full-sized masks and ornamental ones, with everything from Mexican wedding masks to European designs — and at least one proven to be microwave-safe.
After hearing a strange "chomp, chomp, chomp" sound in the quiet study where they kept their masks, the Woodyards pinpointed the sound to the oldest one, a primitive African mask thought to have been carved 90 years ago. Figuring the culprit must be some kind of hibernating, wood-chewing critter, they decided to zap the whole mask. It took a minute and a half, Eleanor Woodyard says, but the microwave got rid of the bug — or at least got it to stop chewing.
George Woodyard's passion for theater inspired him to help lead the fundraising campaign for Theatre Lawrence's new building, and his sister Mabel Woodyard's estate donated $1 million to the effort.
Heller says the Woodyards' masks are like an extension of the comedy and tragedy masks — a quintessential symbol for theater.
"This is just an explosion of that," she said.
More like this story on Lawrence.com