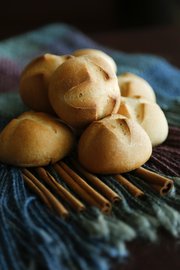 In many parts of the world, meals are eaten with bread. Well, actually, most meals are eaten with utensils, but bread is a common accompaniment. From the high-rises of Manhattan to the courtyards of Casablanca, bread is a well-known staple.
A round loaf with a distinctive taste and texture, khobz is a type of bread that's popular in Morocco. It doesn't require weird ingredients, and you can adjust the flavor from dense and hearty to light and refined, depending on your preference. We're going to add our own little twist to this recipe by breaking the loaf into single-serve rolls. You can make several batches in advance and freeze them for future use.
Grease a couple of cookie sheets and set them aside. In a reasonably deep mixing bowl, combine four cups of flour with 2 teaspoons of salt. Start with half wheat flour and half white, and adjust the ratio according to taste for subsequent batches, subbing in whatever flour strikes your fancy.
Make a little hollow in the middle of the flour mixture and sprinkle in one packet of active dry yeast. On top of that, pour 2 tablespoons of olive oil and 2 tablespoons of honey. A little note here: I actually ran out of honey before baking these rolls, so I used agave nectar. Totally unauthentic, but it added a nice smokiness to the dough.
Add 1 1/4 cups of warm water on top of the other ingredients and stir. It'll come together into a soft dough pretty quickly. Turn it out onto a lightly floured surface and knead for about 10 minutes. Depending on the humidity of your kitchen and the type of flour you're using, you may need to add a little bit of oil or flour to the dough as you work it. Add just enough at one time to keep it from sticking or flaking everywhere.
Divide the dough into 16 equal pieces. Shape each into a small ball and place it on one of the greased pans. Leave about 2 inches of space between each roll. Cover the dough balls with a towel and let them rest for five to 10 minutes.
Remove the towels and flatten each dough ball slightly, then brush them with a thin coat of olive oil. Let them rise for another 45 to 50 minutes. They won't puff up much, but they'll spring back if you poke them gently with a finger. Near the end of the rise time, preheat your oven to 425 degrees.
Using your sharpest knife, cut a slash or an "X" in the top of each roll. Pop the pans into the oven and bake for 18 to 19 minutes. The tops will be a deep golden brown and they'll sound hollow when you thump the bottoms.
Cool the rolls on a rack until you just can't wait any longer, then serve them to your guests, saying, "I know, it's only a Moroccan roll. But I like it!"
Enjoy!