Say you have a brand new, state-of-the-art theater. What's the perfect show to open with?
It should be something big. Something that takes advantage of the space, involves as many people as possible and is absolutely electrifying. What do you choose? "Phantom of the Opera"? "Les Misérables"? "The King and I"?
Theatre Lawrence went a different route. Rather than a famous, all-time favorite, they selected "Ragtime," the musical story of America at the turn of the 20th century.
"It seemed like a good idea at the time," Theatre Lawrence Executive Director Mary Doveton quips when asked why "Ragtime" was the choice.
Photo Gallery
Ragtime Dress Rehearsal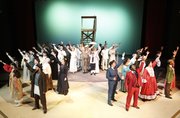 Images from Tuesday night's dress rehearsal for the production of Ragtime at Theatre Lawrence. The musical will be the first show in the new Theatre Lawrence location.
If you go
"Ragtime" opens Friday and runs June 22, 23, 27, 28, 29, 30, and July 5, 6 and 7. Curtain is at 7:30 p.m., except for Sunday performances, which are at 2:30 p.m. Tickets cost $14.99-$21.99 and are available by calling the box office at 785-843-7469 or online at theatrelawrence.com.
Jokes aside, the selection was deliberate.
"We wanted something that was reflective of the community," Doveton says. "This show has so many ethnicities and so many ages, it gave us the opportunity to use a huge spectrum of the community in the cast. It's really the story of America."
"Ragtime" is set in the early 1900s and centers on three central characters: Tateh, a Jewish immigrant from Europe; Coalhouse Walker Jr., an African-American musician from Harlem; and Mother, matriarch of an upper-class Protestant family in upstate New York.
They all have very different lives, and all three have a quintessential American experience of the time.
"So much of the show is about change," Doveton says. "It's about new beginnings. What better show to reflect a theater in change?"
Theme wasn't the only deciding factor. "Ragtime" is one of many shows Theatre Lawrence has wanted to produce for some time but couldn't accommodate because of the tiny stage of its old facility.
"The group numbers are large," Doveton says. "In most shows, a lot of the scenes are small, with only a few people on at a time. But in 'Ragtime,' there are massive amounts of people onstage at once. Even the little scenes have the chorus coming through as backup singers or gathering together to form a crowd, and it's really important they be there."
She describes one scene that occurs at a rally. It's really about two people coming to understand each other, but it takes place during an Emma Goldman rally that ends in a riot.
"It wouldn't make sense without the crowd there," Doveton says. "And you have to have space for those people."
The size of the stage and the scope of the show have enabled Theatre Lawrence to really expand the grandeur of its set pieces.
"The scenic elements we are using are much bigger," Doveton says. "There's a lot more room to move things."
Indeed, "Ragtime" features a 16-foot-long staircase that rises over 10 feet and a full-size Ford roadster among its set pieces.
"I think audiences will enjoy the pageantry of the whole thing," Doveton says. "The costumes are going to be wonderful."
Costumer Jane Pennington has been sewing practically around the clock. Each of the show's 47 actors averages three costumes, and some of them have seven or eight.
"This show explodes all over the stage," Doveton says. "And what could be better for a community theater than that?"
Especially for a first show in a new building.
More like this story on Lawrence.com