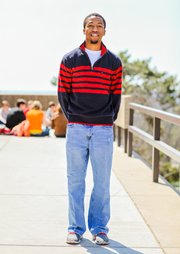 Name: Anthony Moon

Age: 20
Hometown: Lenexa
Time in Lawrence: One year
Occupation: Currently studying architecture
Dream job: I'd like to design stadiums.
What were you doing when scouted? Walking on campus
Describe your style: I like to wear Tommy Hilfiger button-up shirts, jackets, jeans and a nice pair of shoes.
Fashion trends you love: I got with Sperrys finally. I do like sweater jackets that are half zip-ups and (athletic compression) socks because I play basketball a lot.
Fashion trends you hate: Those crazy socks people wear that don't match with their outfits. If you don't match at all I really can't say anything for you. I can't do the pastel pants as well.
Fashion influences: I can't really say. I just like to dress nice. I guess it's people around me or magazines.
What would you like to see more of in Lawrence? Nothing comes to mind.
Less of? Nothing comes to mind.
Whom do people say you look like? Pharrell Williams
Tell us a secret… I can't swim.
More like this story on Lawrence.com