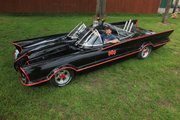 For most news photographers, photojournalism is usually the everyday task of taking photos related to certain news events or assignments, takes a day or two at the most, and is usually meant to accompany a written story.
With documentary photography, the photographer has a longer time frame to capture a story in a series of photos so others can arrive at their own conclusions from the selection of pictures.
It's not often newspaper photographers get much time to do a lengthy photo shoot, because the business is all about getting news published that day or the next.
But recently I had the opportunity to do some documentary photography and spend five months watching a local mechanic build his very own Batmobile. I heard about the car early enough to start thinking of how to shoot it — in stages, not too much at once but over enough time to tell the whole story of how it came together. Then, I'd combine all the photos into a slide show.
Being a mechanic of sorts, I know some aspects of how to build a car, helping me know what to look for in my photos. I was aware of the overall look and also the detail work. It was a raw body and the doors had to be cut out so the hinges would fit.
I took photos from the top of a ladder, moving around the car from different angles to make the shape look good. Sometimes the service door was open, providing a stream of light.
The shoot was easy because it was mostly indoors and weather wasn't a problem.

Anyone can browse the Internet for endless examples of documentary photography, telling stories that vary in topic from humor to travel to pain and suffering. Photographers such as National Geographic's Joel Sartore (joelsartore.com) do some amazing work, sometimes taking a year or longer to capture images for one project.
With the Internet's unlimited space, it can be difficult to judge how many photos are too many in a documentary piece, and how many are necessary to tell the story the way it needs to be told.
Each time I tell a story of length, I become more aware of the little things that make up a set of pictures, sometimes to get reactions both good and bad.
The good ones make you look for more stories, hoping you will reach your audience or make someone ask more questions.