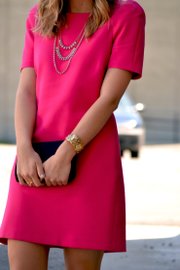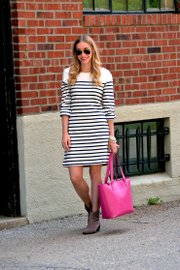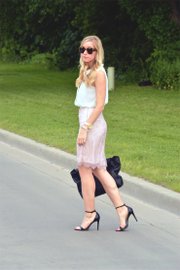 The corporate dress code has significantly evolved over the years. In fact, many companies don't even enforce dress codes anymore. The business-casual dress code still lives, but that doesn't mean you have to stick to the ultra-conservative pantsuit look. There are many ways you can freshen up your work wardrobe to look up-to-date and trendy.
Trends can always be toned down and slightly altered to fit in with your environment. Here are some easy style tips to make your work wear look cool again.
The casual culture
My day job allows me to stylishly express myself thanks to no dress code. But I still keep it appropriate for the work place.
I like to incorporate trends into my looks with a few tweaks so I can still be work appropriate.
Jeans are allowed at my work place, so I tend to wear them frequently because of their versatility and comfort. Boyfriend jeans are a huge trend right now, so they are part of my go-to uniform for work with a top layered under a structured blazer and flats. The blazer creates more of a polished look, which balances out the casual feel of the jeans.
Another easy, casual choice would be a shirtdress. I just bought a striped shirtdress from Gap, and I wear it with ankle boots or flats. Some companies require you to wear close-toed shoes, so ankle boots and flats are great options.
Business casual
Although I'm currently not accustomed to the business-casual workplace, I have had to abide by a dress code in the past.
This type of dress code doesn't mean black pants, a blouse and heels. Pay attention to what is on trend right now in terms of fabrics and colors.
Lace is a popular fabric, so a lace pencil skirt is perfect for work. Pencil skirts can be worn with heels or a nice pair of flats. I like to tuck in a lightweight top and throw on a cardigan or blazer depending on the weather.
Another option is to go for the all-in-one dress. Try a dress in a nice fabric like lace or chiffon because those look more sophisticated than cotton.
If you do go with a cotton-blend dress, make sure it has nice structure because structure automatically creates a pulled-together look.
The professional environment
For those of you who work in full-on dress code territory, don't let your style go down the drain.
Although you might not be able to don all the best trends to work, you can still stay on trend while getting down to business.
Pencil skirts, high-waisted trouser pants and silky blouses should be your staples. A silky blouse can be tucked into either of those bottoms to instantly create your wear-to-work uniform. You can find fun prints and colors to mix and match and keep your style fresh.
A pair of pointy heels is also a style you'll want to have on hand to switch in and out of your rotation.
When it comes to the color choices of your outfit, make sure to keep them somewhat neutral. The ultimate goal for abiding by this dress code while keeping your style integrity is to stand out in a subtle way.
— Emily Kennedy is one-half of the stylish duo behind The Fashion Column blog she shares with her twin sister, Elizabeth. Emily can be reached at fashioncolumnblog@gmail.com.
More like this story on Lawrence.com