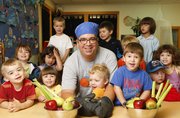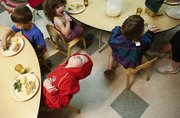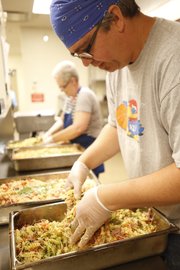 While a recent lunchtime conversation briefly forayed into what everyone did the night before (played with trains, watched TV), you'll normally find a classroom of 3-year-olds fixated on the now.
And when it comes to what's on your plate, that can go one of two ways.
Ellias Lauderdale's most favorite lunch ever? It's the turkey "ham" pasta salad he's scooping into his mouth when asked.
"This," he says without pause. "Yeah, the pasta."
Evan Flessing, however, isn't touching it.
"I don't eat that stuff," Evan says, squirming in his chair. "I don't like it."
Rob Wood, the chef at Lawrence's Hilltop Child Development Center, cooks for a tough crowd. But with an overwhelming majority of students in the Butterfly classroom siding with Ellias rather than Evan, it seems Wood can put a check in the win column — at least for today.
Hilltop, located on the Kansas University campus, provides care and educational curriculums for ages 1 through elementary school. Wood's job description includes putting out meals — breakfast, lunch and a snack for roughly 250 kids and 50 adults daily — that encourage kids to try new things. At the same time, he says, getting creative doesn't do much good if no one eats what you make.
"If you don't challenge them, they don't know any better," Wood says. "But you can't always be pushing weird things at them because they're just not going to eat it."
What's 'yucky'?
Kelli Kuhlman, lead teacher in the Butterfly class, says her students, naturally, love pizza and chicken nuggets but that some of the less traditional offerings have surprised her.
"Rob's really branched out," Kuhlman says. "The gyros were really good, and the kids like the tikka masala." The previous day's big hit was chicken pesto pasta — made with spinach instead of real pesto.
Wood says he tries to incorporate new and ethnic flavors but avoids making foods adult-level spicy or strong tasting.
Sometimes the youngest children are the easiest to please.
"They don't have the preconceived notion yet of what's yucky or what's gross," Wood says. "To them, it's just food."
But not everything flies, even with the little kids. Wood puts one "cowboy caviar" snack with avocados and beans into this category.
"They did not like that very well," Wood says.
No nuts, no pork
Just like public schools, Wood's meals must meet certain nutritional guidelines for Hilltop's food program to remain eligible for government assistance.
Accommodating many religious and societal dietary needs adds another level of challenge at Hilltop, where most of the children's parents are affiliated with KU and come from all over the globe.
"The population here is really diverse," Wood says. "We have a list as long as my arm on food restrictions and allergies."
Hilltop is a completely nut-free zone, and Wood must provide a vegetarian option for each meal. Nondairy and gluten-free meals are handled on an individual basis.
Wood says he's all but eliminated pork altogether (hence the turkey processed like ham in today's pasta salad) because there are so many students who don't eat it.
And because Hilltop has no cafeteria, all meals must be able to be carted to each classroom and served family style.
Lightening up
Wood took the job at Hilltop about a year and a half ago.
In addition to having his own son, Ian, a 3-year-old in the Butterfly class, Wood credits being around kids every day with helping him lighten up since his days as a "surly line cook" at Free State Brewery, where he held a number of kitchen jobs over the past 15 years.
At Hilltop there are different restrictions (and it's OK to use frozen vegetables), but his new mission is reminiscent of conjuring daily specials, a favorite task from his brew pub days.
"The challenge is just trying to come up with different ideas for them," he says. "But that's part of the fun of it."
More like this story on Lawrence.com