Big news for Final Fridays fans: One of most popular venues, the Lawrence Art Party, which had been at Hobbs Taylor Lofts since Final Fridays' beginnings, has moved to its new space at 512 E. Ninth St. (Ninth and New Jersey streets).
"It's the home of our new makerspace, Lawrence Creates," says Eric Kirkendall, primary organizer of the Art Party, as well as a leading force in the new space for artists, hobbyists, inventors and other creative people. "We decided it only made sense to move the Final Friday event."
While the building will continue to host artists for Final Fridays, the rest of the month it is for anyone who wants to explore an idea.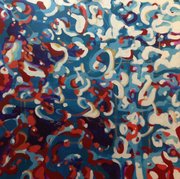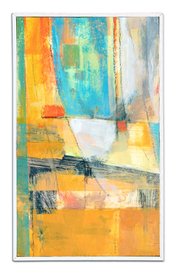 "This space is not just for artists," Kirkendall says. "It's for makers, engineers, technical people and people who want to design products."
In addition to having a full wood shop, metal shop and textile studio, the new Center for Innovation offers classes and workshops where people can learn new skills.
"I see this as an economic-development opportunity," Kirkendall says. "We will work with people who want to work collaboratively with others while improving their own skills."
The center's goal is to train 1,000 people in the next 12 months. Given the showing for the first workshop held this past week, Kirkendall is hopeful.
"It was a great turnout," he says. "I see us having training classes every single day."
Melissa Spurlock's 'Watershed'
Another new space to explore is Melissa Spurlock's studio at 313 E. Eighth St.
"Watershed," is an apt title for Spurlock's show given recent events in her life. Last year she was diagnosed with lymphoma five days before she was supposed to sign a lease for the studio in the East Lawrence building. "When I was hit with the diagnosis, everything changed, every single thing," Spurlock says. "I had to decide whether I wanted to do this." (Referring to the studio and her desire to pursue her art.)
Ultimately, she decided to sign as the studio gave her something to look forward to as she underwent treatments.
"It's been such a positive force in my life," she says.
While tests indicate that her tumors have not grown since September, the treatments are not a cure.
"I don't have the type of lymphoma that gets cured," she says, "but it's slow-growing, and I am hopeful that a cure will be found in the next few years."
Spurlock has found other reasons to be grateful this year.
"When I was first diagnosed, I met with a social worker who wanted to make sure I had enough money for gas so I could get to the treatments," she says.
The question took Spurlock aback. "It had never occurred to me that someone would have to worry about all that stuff in addition to worrying about everything else that comes with a cancer diagnosis."
The realization made her want to help others who are struggling with cancer. Twenty-five percent of profits from Friday's event will go to the LMH Endowment Association's "Catch a Break Foundation," a fund that focuses on the day-to-day needs of people undergoing treatment, such as financial assistance for co-pays, rides to and from the hospital and meals.
"I have a great support system," says Spurlock, who, when she is not pursuing her art, works as a project manager for an IT firm. "I have my whole family to help me, and my husband is really supportive."
Paintings of Jen Unekis
Final Friday attendees can also check out award-winning artist Jen Unekis' new paintings on display at Pachamama's Restaurant and Star Bar, 800 New Hampshire St.
While Spurlock has her support system and has found her creative space, Unekis sometimes struggles to find her own.
"The kitchen is way too close to the little chunk of space I have to paint in," she says. "I took over the back half of my daughter's bedroom to be able to paint some big paintings that I had commissioned, and now she does not want me to change it back because she likes me being there!"
But finding space isn't Unekis' only challenge, and like Spurlock, she has also struggled with medical setbacks having recently been diagnosed with MS. "Sometimes it's hard to stay motivated... I get really tired and sometimes it is hard to have the energy to paint."
Fortunately, Unekis has found the energy (and the space) for her latest pieces currently on display at Pachamama's. And like earlier works, these pieces were inspired by her childhood in which she went from a comfortable Southern California lifestyle with a pool, playhouse, and citrus trees to a 100-year-old Kansas farmhouse in desperate need of care.
"Horse hair plaster, lathe walls, exposed stairs, and half finished projects was the style of decorating in her new home," she writes in her artist's bio. "Plastic sheeting became a favorite material for just about everything, including doors, windows, and walls."
Unekis believes that her background, a life that changed from one of comfort, to one of a struggling farm family, is what sparked her creative spirit.
More like this story on Lawrence.com