At 826 Pennsylvania St., in east Lawrence's Warehouse Arts District, sits a seemingly inconspicuous monolithic brick warehouse, save for the stenciled "SeedCo" above the building's front doors.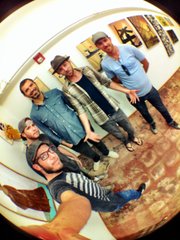 If you go
SeedCo Studios, 826 Pennsylvania St. will be celebrating its one-year anniversary Friday with an open house from 6 p.m. to 9 p.m., followed by performances by Grenadina, Bloodbirds and Lovers.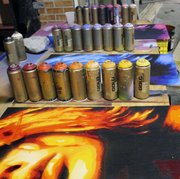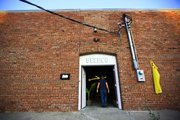 If you find yourself in the area on a Final Friday, the dozens of people overflowing from those same doors provides you with a dead giveaway that this warehouse is home to something big.
SeedCo Studios first opened to the public in July 2012. At two floors and more than 10,000 square feet, the building serves as a truly multidisciplinary venue — it's here where bands perform, practice and record; visual artists create and exhibit work; and staged readings and flea markets have been held.
The area is home to other redevelopment including the Poehler Lofts building, Cider Gallery and Invisible Hand Gallery.
"SeedCo is unique as a venue in that its main goal is to support creative expression and engage the audience rather than increase margins," says Jeromy Morris, director of SeedCo Studios. Morris is a member of Fresh Art Produce Collective, the group that founded SeedCo. A few of the collective's other members — Jesse Gray, Erok Johanssen and Jeremy Rockwell — curate and organize exhibitions and events at SeedCo.
Dozens of artists and musicians take advantage of the space. Local bands and musicians Dean Monkey and the Dropouts, Karma Vision, Oils, CS Luxem, The Ovaries-eez, Brian Miller and Rishi use the recording studio and rehearsal space. Fifteen resident artists currently use the bottom floor of SeedCo for studio space.
'Like a family' in the studio
Alicia Kelly, a local artist who works with paper-cutting and screenprinting, moved her studio space from her home to SeedCo in October.
In the past, Kelly has worked alone in a home studio and in a collective space in Portland, Ore. Though the studios in SeedCo might contain "small barriers here and there," it's generally pretty wide open while artists work.
"This way, you kind of feel more like a family," she says. "You have to figure out the way people work. If you see someone with their head down, you don't interrupt them."
Kelly says the setup has made her more productive.
"This isn't the first time I've worked with people. I haven't always been alone. But this is the first time I've worked openly... completely open," she says. "I have to admit, I've worked more this year to this point than I have in the past two years. You can tell we're all inspired by each other."
Happy anniversary, SeedCo
Now, the folks behind SeedCo Studios are ready to celebrate one year of calling the Warehouse Arts District home.
On Friday, SeedCo Studios, as it does every Final Friday, will open to the public — this time, with a more celebratory feel. Resident artists will open their studios from 6 p.m. to 9 p.m., and bands Grenadina (Lawrence), Bloodbirds (K.C.), and Lovers (Portland) will perform after 9:30 p.m.
Ailecia Ruscin, photographer for Lawrence.com, regularly collaborates with the founders of SeedCo. She organized Friday's lineup, and says the show purposely features all female-led bands.
"I'm excited about getting people who haven't been to SeedCo into SeedCo," she says. "This will be a good show to bridge different communities together in a cool space."
Ruscin has been a fan and supporter of SeedCo since its beginning — she thinks back to a rare night she ditched her camera for a Cloud Dog show at SeedCo.
"It was really late at night. Even though it was so hot outside, the warehouse holds cool air, too, so it was manageable. I just remember dancing and sweating and having a good time," she says.
Many more years to come
Morris says "cooperation, collaboration and community involvement" are vital to SeedCo Studios' future. He says there are plans to build a gallery and exhibition space for artists in residence, integrate more sculptural and temporary installations, and continue to host national and international artist residencies.
In the meantime, SeedCo will continue to be home to new and emerging projects in a space where anyone should feel comfortable.
"I'm excited to have a DIY space in the community that's doing both art and music," Ruscin says, "and being open with their space and sharing it with people."