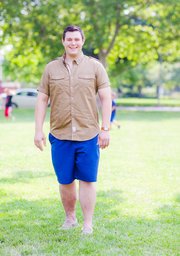 Name: Adam Staley
Age: 29
Relationship status: Married
Hometown: Seminole, Okla.
Time in Lawrence: Seven years
Occupation: Sales associate at Payless Furniture
Dream job: Head football coach of any team.
What were you doing when scouted? Getting breakfast at Fuzzy's Tacos
Describe your style: My style comes from my wife, her approval. I get her advice on some things ... OK, just about everything. A lot of times there's stuff that I think will be awesome for me and I show it to her, and it's far off.
Fashion trends you love: I like deck shoes because they are comfortable and they can be casual or dressy.
Fashion trends you hate: I think the fedora hats are going out of style for men.
Fashion influences: My wife. However, my style comes down to what fits me the best. Often times I have to compromise colors or styles because they do not fit well.
What would you like to see more of in Lawrence? More of the old-fashion family fun like skating rings and drive-in theaters.
Less of? Construction.
Tattoos or piercings: None.
Whom do people say you look like? Clark Kent
What type of music do you unwind to: Everything. I'm into rock, hip-hop, country and metal. I like it all.
Tell us a secret… I secretly follow the TV show "Teen Mom 2."
More like this story on Lawrence.com