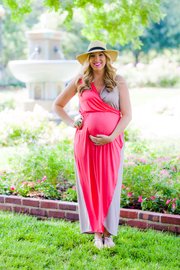 Name: Katie Staley
Age: 27
Relationship status: Married
Hometown: Vinita, Okla.
Time in Lawrence: Nine years
Occupation: First-grade teacher
Dream job: Fashion stylist for everyday people.
What were you doing when scouted? Going to have brunch with my hunky husband!
Describe your style: Well, I'm really adventurous so it's hard to pinpoint what my style is. One day I might wear a pencil skirt with my hair in a slick bun, red lipstick and high heels. Next day I might go for a bohemian look with a long, flowy dress and braids in my hair. I'm experimental. I love to take risks with my fashion. It keeps it fun.
Fashion trends you love: I really love retro pin-up styles and vintage looks like red lipstick and retro hairstyles that I'd like to learn how to do.
Fashion trends you hate: I don't like little girls dressing older than they are. It's great to see little girls dressing like little girls. Also, trend-wise, I don't like babies wearing huge bows with flowers that are bigger than the size of their head.
Fashion influences: I just know what I like. I like a challenge. I like thrift stores, antique stores and vintage shops or whatever I'm drawn to. It's hard to say.

What would you like to see more of in Lawrence? It would be neat to see a mom-and-pop grocery store downtown where you can buy basic necessities like bread, fruits and such.

Less of? I really like Lawrence because it's unique. Maybe, less new construction, more renovation.
Tattoos or piercings: My ears are pierced.
Whom do people say you look like? Colbie Caillat or my sisters.
What type of music do you unwind to? Classic rock and oldies
Tell us a secret… I haven't bought one piece of maternity clothing!
More like this story on Lawrence.com