The story behind the documentary "A Band Called Death" is a simple one.
The film, which opens nationwide Friday, is about three brothers from Detroit in the '70s. The Hackneys — Dannis, David and Bobby — were unlike the majority of black musicians in Detroit at that time. They were called Death. They played powerful rock 'n' roll. They self-released one single. At the time, nobody knew who they were.
Yet one brother, David, promised that one day they'd be famous. And it happened — albeit 30 years later and after he died.
Directors Mark Covino and Jeff Howlett tackled the story of how this obscure band, known only to record collectors, came to light so many years later as the band that pioneered punk music before there was such a thing and began playing shows again.
Discovering Death
Jeff Howlett: I became aware of the band in 2008. Bobby Hackney Jr. came up to me and said, 'Hey, me and my brothers are covering my father's music. You should come check us out.' And I was a little intrigued, like, 'Oh, that's interesting,' 'cause I knew Bobby Sr. from 20 years prior, when my band at the time — a heavy rock band — played with his reggae band, Lambsbread, at a sort of a Vermont music showcase, if you will, and we sort of kicked things off then.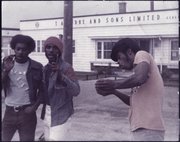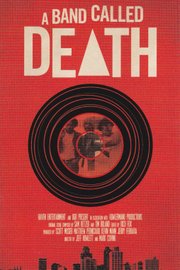 So all I knew was that he was in a reggae band, great musician — him and his brother Dannis — so I've known him and the family for quite a while, and known some of the bands that Bobby Jr.'s been in. He's been in punk bands, and sang with his brothers, as well. And so, you know, I was intrigued, and I was like, 'Are you guys playing Lambsbread music?' and he said, 'It's not Lambsbread. It's this band Death, like this punk band — this protopunk kind of stuff.' I was like, 'What?! Why didn't Bobby ever tell me this?' And he was like, 'Dude, we just found out this summer.'
So that intrigued me, and I went and saw the show and, at that point — it was November of 2008 — I hadn't seen them play at all, I hadn't heard the music, nothing. I had no frame of reference. When I heard the music and saw the show, I was just completely blown away, and I knew they were something special, just from knowing the family.
We started talking about some sort of documentary — maybe a short or something — around March 2009, and right around that time, the New York Times article ("Death Was Punk Before Punk Was Punk") came out, and that just sort of cemented everything. Like, 'It can't stop at a New York Times article — we gotta really start documenting this stuff.' So, I sat down with Bobby Jr., and he sort of gave me this overview of what he knew about the story. He sort of laid the groundwork in that first interview, and I was completely blown away, like 'We really have something interesting here.'
Right around the time that article broke, I sent it to my buddy, Mark, and said, 'Dude, there's something special here. I think you should check it out.'
Mark Covino: At the time, he just wanted to do like a 20-minute doc, and he just wanted me to be the director of photography at the time. Just help him shoot, help him light one or two interviews. And I told him just send me the email with the synopsis, the New York Times article he kept talking about, and the two tracks of music and that I would, you know, think about it.
So I blew his email off for two weeks, because I knew I really didn't want to get back into docs, and then after two weeks, thought, 'Well, he wanted to do a short doc, so maybe we could film it over a weekend and it's also rock 'n' roll. It's not hip-hop like my other doc, and I relate more to rock 'n' roll than hip hop. Let me just check it out.'
I checked out his email, read the synopsis, and thought, 'This is kind of what I remember him telling me, but I don't think it's a true story. Maybe he's making it up.' Then I read the New York Times article, and I was floored. Then I played 'Keep On Knocking,' and I fell out of my seat. I couldn't believe that was the music he was talking about. I played 'Politicians [In My Eyes]' after that, and immediately called him back. Said he was (freaking) crazy and that we had to go out and do it as a feature.
Finding funding
"A Band Called Death" would take nearly three years to film, with an additional year in post-production. The band, now consisting of Bobby Sr. and Dannis Hackney and Lambsbread guitarist Bobbie Duncan, would tour the country behind the eventual release of their original recordings on Drag City Records, entitled "…For the Whole World to See." Filming took its toll on the directors, though — Covino and Howlett, at one point, nearly set the film aside because of lack of funding.
Covino: That was on a day that Jeff and I had a phone conversation early in the morning. I think Jeff called me from his work saying, 'Dude, we both don't have any more money to finish this project. It's wearing us out emotionally.' And things at home weren't the best since we were always away from home. So we decided we had a couple options: let's make this a five-year project, like 'Hoop Dreams,' let's abandon the film altogether or just put it on hold and try to find some funding. So we decided to put it on hold and try to find some funding.
I think it was just an hour after that that a friend of mine texted me: 'How come you never told me that (film producer) Scott Mosier was all about your movie?' I ended up calling my friend to find out what the hell he was talking about. He's like, 'Well, Scott's tweeting about some trailer he found online, that you cut, and he won't stop talking about he wants to know more about the film.'
So, I told my friend, 'Send him my email.' He sent him my email, and I think that night, me, him and Jeff were on a conference call, and he essentially became our producer overnight.
Howlett: And through Scott, we got Matt Perniciaro, Kevin Mann, and Matt ended up getting us some finishing funding through his friend, Jerry Ferrara. So it kind of all came together.
'Good for the soul'
The completed film premiered at the 2013 South By Southwest festival to almost universal acclaim, wining the Audience Award.
Viewing the finished product, it's easy to see why — the film is a mix of the real and the spiritual, contrasting the emotional toll of trying to make a band happen with the almost mystical predictions of David Hackney, who died of lung cancer in 2000. At some point or another, every band or family member breaks into tears. It becomes even more emotional when, midway through "A Band Called Death," the Hackneys' mother dies.
The filmmakers included footage of the funeral in the completed film.
Covino: Well, Bobby (Sr.) contacted us and told us about the funeral — told us how his mom died and, you know, we had shot the footage of her, obviously — it's in the movie, in the beginning it's all their interaction with her and the family, really. We immediately thought it's a possibility of something to film, but we don't want to step over the line. That's up to Bobby, and Bobby brought it up to us. He's like, 'You guys need to come out and film the funeral. This is part of the story.'
I brought a friend out with me to film. We're both white, and no one else is white there, so we stuck out like sore thumbs, but everyone in that family was so welcoming and not mad that we were there, documenting their mom's funeral. It's a pretty great family to be able to do that.
Howlett: It was just amazing how Bobby was like, 'Please, you guys. Please come out.' I just remember a phone conversation of, 'Are we really overstepping the line here?'
Bobby Hackney: Yeah, well, you know, I told 'em that — they were going to be there filming, anyway, and I thought that it wasn't going to be in the movie. I thought that it would be something that … we were convinced by that time that Jeff and Mark were just dynamite filmmakers, and we just asked them to do it on a whim, because, hey, this could be a tribute to our mom, but we didn't think it was ever going to make it into the movie. We just thought it would be something that we would never watch. You know how it is — you have these things, and a family member passes on, and you have something that's really great, but you never want to go back to it because it just brings back too many sentimental memories, you know?
We were just thinking of it as a piece that each one of us would have a copy of that we would never watch because of a fear that we'd be crying all of the time. But now me and Dannis kind of live it every time we see the movie. But it was really good to see our family in Detroit and live that, you know? I think it's good for the soul to do that. We can attest to that, you know?
Death lives on
While Covino and Howlett spent a lot of time with the band over the course of making "A Band Called Death," and continue to do so, going with them on Q&As; and film screenings, they're not continuing to document Death's story as the band plays bigger shows and records new music. It's especially painful, given Death's recent bravura homecoming performance at the Orion Music and More Festival on Detroit's Belle Isle earlier this month.
Covino: It hurts not to be out there with a camera, but it just comes down to money. There's definitely no more money left in our budget that we ended up getting. But the Orion Music and More Festival is something that we wish we had been able to film. We actually have footage — it'll hopefully be a deleted scene on the disc — of Death walking around on Belle Isle, taking about how they had always dreamed of being able to play there, and how David used to go there all the time and see bands play, and he'd always say, 'One of these times, we're going to be up on that stage.'
Dannis Hackney: You know, if you're a band like us that come from where we come from and you find yourself onstage at the Orion Fest and the bass player for Metallica has a Death T-shirt on, OK? Announcing us to the crowd … I mean, if you come from where we come from, it don't get no more special than that.
Bobby Hackney: Yeah, because Detroit was always known as Detroit Rock City before Motown. It wasn't known as Motown, it was known as Detroit Rock City. Belle Isle in Detroit is like what Central Park is to New York. We grew up, basically, on Belle Isle. We rode our bikes around on Belle Isle. We saw shows by the Funkadelic, some Motown shows, Mitch Ryder and the Detroit Wheels.
As a matter of fact, David barely escaped the riot in 1967 when John Sinclair gave the love-in with the MC5 playin'. He wasn't supposed be on the island, 'cause my mother was lookin' for him. We knew where he was, and we saw the news — all these National Guards rolling across the bridge — we were a little worried, and then David pulled into the backyard. He said he was coming across the bridge, and he could see all the National Guard coming in.
We used to go up in the band shell and pretend we were doing concerts, and David used to say to us, 'One day, there'll be a sea of people lookin' at us.' And, hey, we'd always go, 'yeah, Dave,' and that's why it's super special for us every time we play Detroit, anywhere.
'You're too loud'
The responses to Death's modern-day performances are a stark contrast to their original go-round in the '70s. At that time, to say that the response was less than enthusiastic would be an understatement.
Dannis Hackney: You have to understand, the last time … the reason we put the tapes in there was because they broke our hearts so much, with all of the rejection: 'You can't play at my club,' because of this, that, or the other reason, and after a while, when it got put away, it was just put away and that was it. It was just, 'OK, maybe we'll deal with this later. Maybe we won't.'
Bobby Hackney: We didn't play too many places then. You know, you have to understand that in Detroit, at the time we was making music, it was really all about making the record. You'd have a band, and people would ask you, 'What's the name of your band?' and after that, they would ask, 'Do you have a record out?' That was just the Detroit way.
So we were really preoccupied with the record, but David did try to do some creative bookings, if you would. We ended up playing, like, the Masonic Temple for an all-black cabaret with us playing in front of a packed house, and we're playing songs like 'I'm a Man,' and 'Great Balls of Fire,' then we go into 'Keep On Knocking,' and you could hear a pin drop after every song, you know? Just a crowd of people lookin' at you. And, finally, one of the older guys just walked across the dance floor and comes up to the band and goes, 'You're too loud.' And then he goes back and sits down.
Dannis: That was our crowd response.