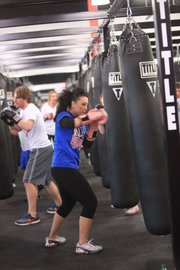 Swimsuit season is on its way, so now is the time to get in shape. Boxing is a great workout that also teaches fighting techniques, which can be useful for self-defense or fun in the boxing ring.


Getting started
You don't have to be in great shape to start a boxing class; you just have to be determined to get in shape.
Boxing is a vigorous workout. In fact, Title Boxing Club has a fitness class called "Power Hour" where you can burn up to 1,000 calories in one hour.
Cost
Free to $59 a month.
Some gyms prefer that you buy your own hand wraps.
Haskell Boxing Club is free, however, coach Darren Jacobs says their classes aren't about burning fat, they're about competition fighting. The club is open to everyone and all ages.
Punch Boxing and Fitness has a monthly rate for all classes at $59 for adults and $35 for students, which includes from 5 years old to college age. The first class is free.
Title Boxing Club also has one free class. It does not have an available pricing list.
Where to go
Haskell Boxing Club has boxing classes on Mondays, Wednesdays and Fridays from 5 p.m. to 7 p.m. It is located in the garage on the east end of Pontiac Hall at Haskell Indian Nations University's campus.
Punch, 4931 West Sixth St., has at least one boxing class every day and a family class on Sundays at noon. A complete list of classes and times can be found at punchboxingandfitness.com.
Title Boxing, 1520 Wakarusa Drive, has 35 boxing classes a week. A complete list is on titleboxingclub.com.