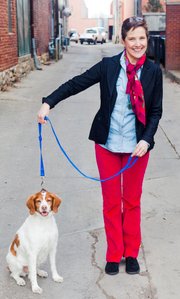 Age: Old enough to be able to laugh at myself with love.
Relationship status: Married
Hometown: Lincoln, Neb.
Time in Lawrence: I'm visiting my daughter at KU.
Occupation: I'm a sales rep for a line of women's clothing called Jockey Person to Person.
What were you doing when scouted: I was walking my dog, Indy.
Describe your style: My New York designer would call me bohemian for my age. I think it's more like being funky preppy.
Fashion trends you love: I love colored jeans, fabulous shoes, statement necklaces and always scarves.
Fashion trends you hate: Oversized clothing on women. The fit is it!
Fashion influences: Any Hepburn, Audrey or Katharine!
What would you like to see more of in Lawrence? The girls here are so beautiful. I wish they would really celebrate that and not wear sweatshirts and leggings all the time. Dress up!
Less of? Rock Chalk gear
Tattoos or piercings: Just say no.
Who do people say you look like? Annette Bening
What type of music do you unwind to? Adult alternative like The Decemberists and Alabama Shakes.
Tell us a secret … I'm going to run away to Colorado soon. It's time to act on my ski bum fantasy.
More like this story on Lawrence.com