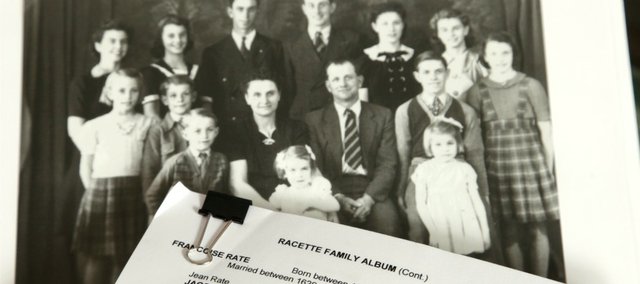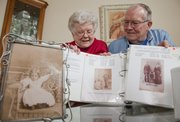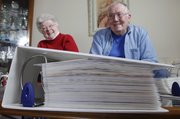 Need help?
Douglas County Genealogical Society members hold informal "Brick Wall Sessions" from 5:30 p.m. to 7 p.m. the last Friday of each month in the basement of Watkins Community Museum of History, 1047 Massachusetts St. For membership information and some research sources, visit the society's website, skyways.lib.ks.us/genweb/douglas/dckgs.
Joni Hughes' obsession with researching her family tree started with a simple enough question.
She was looking for the first name of an ancestor from a few generations back. Finding that easily, she wanted to know more.
And more.
"Let me give you a warning," Hughes said. "It's addictive. You find one little piece of information, and you're hooked."
Boosted by the camaraderie of the Douglas County Genealogical Society, a number of area residents have made a hobby of unraveling the mysteries of their family trees — or trying to.
"You're always coming up against some other thing that you have to find out," society president Mary Burchill said. "It's what keeps it interesting."
Burchill started researching her family history in the 1970s to see if she could become a member of the Daughters of the American Revolution. She proved that she could — thanks to ancestor and patriot Wentworth Dresser — and has traced her family back to its arrival in the United States in 1632.
"I think it gives you a feeling of where you come from," Burchill said.
"I know lots of people say they don't really care about their past family. However, I think it's important."
When you've researched your way into a corner, Burchill said, it can be surprisingly helpful to brainstorm with others who are working on genealogy, too, which is the goal of the society's informal monthly "Brick Wall Sessions."
Harlan and Dorothy Miller laugh out loud together when asked whether their quest ever gets frustrating.
Both have been researching their family trees for the past few years and gotten stalled — or altogether stymied — plenty of times. There were multiple generations with common names like George or John. Offspring given the same name as a sibling who died before them. The time Harlan finally realized that research his father started decades earlier was missing an entire generation; someone listed as an ancestor's brother actually turned out to be his son.
When the head-scratching gets too infuriating, "that's when you just close the book, or go to bed," Dorothy said.
"Or pick up the paper, or go watch TV," Harlan added.
Harlan recalls his father researching the family tree back in the late 1940s or early 1950s. Years later, Harlan pulled out the two boxes labeled "genealogy stuff" and started sorting.
"I was more interested in my stamp collection," he said. "But when I got that pretty well caught up, I started on genealogy."
He's been able to fill in a number of blanks, but there are still some big mysteries. Like Lt. Henry Dawson, who lived in the 1700s and was supposedly married twice. One wife is buried with him but her grave has no name, and Harlan's not sure he'll ever figure out whether that's wife No. 1 or wife No. 2.
He has discovered other interesting tidbits, like the distant relative who had, by two marriages, 16 children. Dorothy's made discoveries, too.
"I found out that my grandfather had six wives," she said. "Not all at the same time."
A photo of that grandfather — dark-haired and as handsome as one might expect — graces the cover of one of Dorothy's two genealogy notebooks, both as thick as a fist and packed with scanned, printed and labeled family photos. The wife on Edward Racette's arm in this picture is Amanda Racette, Dorothy's grandmother.
Dorothy's research dates to 1594. Of course her photos don't go back that far, but a thick list of names does. Unfortunately for Harlan, the family photos he inherited weren't so well labeled, or labeled at all. He said they're like the big boxes of old, anonymous pictures one might see for sale in an antique shop.
"Instant ancestors," he lamented. "Got lots of those."
The Millers hope to travel to some of the areas their ancestors lived, in hopes of seeing graves and possibly courthouse records in person. In the meantime, they'll keep researching.
"I think it's just fun," Dorothy said. "Plus, when you have pictures, like me, it's like getting to know your family."
Harlan said he likes "the hunt."
"I don't know what it is," he said. "It just keeps you going. It's sort of like a mystery — you've got to get to the end."
Not that he'll ever find it.
More like this story on Lawrence.com