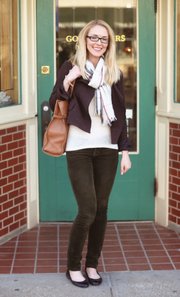 Age: 24
Relationship status: Dating
Hometown: Lawrence
Time in Lawrence: Four years
Occupation: I work in a law office and a jewelry store.
Dream job? International puppy baby sitter
What were you doing when scouted: Getting coffee
Describe your style: I love the color black although I'm not wearing any today! Besides that, I like comfy, soft, rich, textural clothing that is well made.
Fashion trends you love: I like leather, black and white everything, big as well as minimalistic gold jewelry and stilettos.
Fashion trends you hate: I know it's huge for spring, but I don't like floral patterns.
Fashion influences: My mom, Kate Moss, the style blog called "They All Hate Us" and anything Alexander Wang.
What would you like to see more of in Lawrence? I would like to see people dress up more.
Less of? Everyone wearing the same thing.
Tattoos or piercings: Just my ears pierced!
Who do people say you look like? I used to get Blake Lively occasionally. But that was when my hair was longer.
What type of music do you unwind to? Right now I'm really into funk!
Tell us a secret … My parents are going to kill me, but I really love "The Bachelor"!
More like this story on Lawrence.com