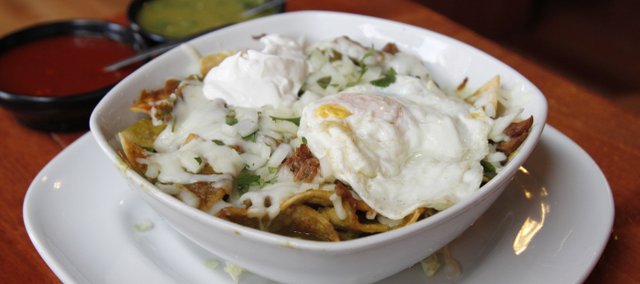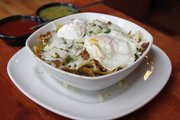 Chilaquiles is a Mexican breakfast staple, and this version is substantial enough for a full meal any time of day. A big, hot bowl of tortilla chips, shredded beef and spicy salsa — the chips on top stay crunchy while lower ones soften in the flavorful juices — is topped with cheese, onions, cilantro and sour cream. Mexquisito uses its signature thick, made-to-order corn chips (the same ones served at Tortas Jalisco, which has the same owner). Go all out and order these chilaquiles the authentic way, with a runny fried egg on top.
Where to get it: Mexquisito, 712 Massachusetts St. (Also available at Mexquisito in Eudora, which just opened this month near 10th and Locust streets.)
What you'll pay: $7.99
Try it with: A fork. These aren't nachos, just to be clear.
Also on the menu: Regional Mexican dishes such as the Tamale Oaxaqueño (Oaxaca-style chicken tamale steamed in banana leaf) and Camarones 100 Años (shrimp sauteed in Oaxaca-grown pasilla chile sauce and finished with 100 Años tequila), fish tacos (al pastor or with breaded fish), chorizo pasta and a variety of Latin-inspired specialty drinks.
— Off The Beaten Plate highlights some of the more exotic, oddly named or inventively concocted (for better or worse) dishes from local menus. Know of an offbeat menu item we should check out? Email food and features reporter Sara Shepherd at sshepherd@ljworld.com. Tweet her at Twitter.com/KCSSara.