Wednesday, March 20, 2013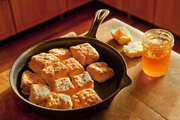 Well, with snow refusing to go away, it looks like there's still time to try out those yummy-sounding soup and stew recipes that you've been collecting all winter.
Where there is stew, there should be biscuits. If you'd like to go a step beyond plain drop biscuits from a baking mix, this quick and easy version is dressed up with garlic, pepper and cheddar cheese. Sound like a winner? Crank up your oven and prepare to play along at home.
Set your baking temperature to 425 degrees. Pour a tablespoon of vinegar into a small measuring cup and add just enough milk to equal two-thirds of a cup. Set it aside to "sour."
In a largish bowl, combine two cups of flour with 1/2 teaspoon of salt, 1 1/2 teaspoons of baking powder, 1 1/2 teaspoons of baking soda, 1/2 teaspoon of garlic powder and 1/2 teaspoon of ground pepper.
A couple of notes here. Different flours will (obviously) yield different flavors. Try white bread flour for a traditional biscuit, or use whole wheat flour for a more rustic taste. You can also adjust the amounts of pepper and garlic. A little less is perfectly fine, but don't add too much more garlic powder. You want biscuits, not vampire repellent.
Once you've mixed the dry ingredients, cut up 1/2 cup of cold butter and add it to the flour mix. Rub it in until you've got a nice, coarse mixture. A few lumps here and there won't hurt a thing. Stir in a heaping cup of shredded cheese. I used a blend of three kinds of cheddar, but go with what you love.
Time to get that cup of vinegar milk. Sounds tasty, right? Blech. Pour it into your flour mix all at once and stir until it just begins to hold together. Too much mixing will yield tough biscuits and might let your baking soda get ahead of you.
Turn the dough out onto a lightly floured countertop and knead it quickly, about a dozen times. Pat it into a half-inch thick rectangle. Using a pizza cutter and quick, decisive cuts, slice the slab into 12 pieces. Avoid using a sawing motion when cutting out biscuits; if you opt for a biscuit cutter, don't use a twisting motion during cutting. These actions have a sort of pinching and sealing effect on the edges of your biscuits, preventing them from rising as high as you might like.
Place your biscuit bits on an ungreased cookie sheet, about an inch apart. Pop the pan into the oven and bake for 15-18 minutes. They should be a nice golden-brown color and look like ... well, they should look like biscuits. You've seen biscuits; you'll know when they're done.
Serve these little dudes hot out of the oven. If you have leftovers, store them in an airtight box and reheat them the next day.
Enjoy!