Photo Gallery
Lawrence Arts Center Benefit Art Auction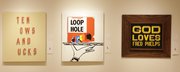 View selections of artwork that will be at the April 13, 2013, Lawrence Arts Center Benefit Art Auction.
If you go
The Lawrence Arts Center's annual Benefit Art Auction is set for April 13 at the Arts Center, 940 New Hampshire St.
Doors open and cocktails and hors d'oeuvres will be served at 5:30 p.m. The live auction begins at 7:30 p.m. Admission is $40 in advance or $50 at the door, and reservations can be made by emailing officemanager@ lawrenceartscenter.org or calling 843-2787.
All 150 featured artworks are on display now at the Arts Center, and bids are being accepted for the approximately 100 pieces designated for silent auction. Remaining works will be auctioned live April 13.
Find a complete list of participating artists and images of their work online at lawrenceartscenter.org.
You can own original art.
Yes, you.
That's one of the points the Lawrence Arts Center wants to prove through its upcoming Benefit Art Auction.
The annual art show, which is open now, and auction, planned for April 13, is the center's most important single fundraiser of the year. Organizers also see it as a way to introduce artists to new eyes and, as Arts Center Director Susan Tate puts it, community members to a way of life that includes owning art.
"We really want to be part of a culture that encourages buying original art," she says. "It's a terrific way to introduce people to the idea."
This year's show features 150 original artworks from local and national artists, on display now at the Arts Center, 940 New Hampshire St. About 100 pieces are on sale through the silent auction, in which bidding starts at half the piece's retail price. The remaining works will be up for sale at the live auction.
The price range is purposely broad, Tate says, with pieces that could sell for as little as $15 or as much as $12,000 or more.
Whatever the price point, each artwork is quality, says Ben Ahlvers, exhibitions director at the Arts Center. Artists participate by invitation, and there's a wide variety of sizes, mediums and styles.
Works by familiar Lawrence artists such as Roger Shimomura, Louis Copt and Lori Norwood are included. There are also many pieces from artists participating in the auction for the first time.
"There are more new artists than ever," Ahlvers says.
Three of this year's four featured artists — whose works were shown in the Arts Center's recent VIM exhibition, a show designed to highlight the exuberance and vitality of texture and color — are new to the auction, too. Ahlvers contributes artwork each year, but it's the first time for fellow VIM artists Archie Scott Gobber, Kent Michael Smith and Lisa Lala, whose large, bright panels anchor the exhibit.
Tate says the Arts Center continues to expand on its definition of exhibition space — instead of being limited to designated galleries, there's now artwork displayed in nooks, windows and hanging from the ceiling. (The giant stainless-steel curlicues dangling overhead when you walk in the front doors? That's "Springs," by Lala.)
The auction pays for exhibitions in these spaces, plus related artist lectures, feature films and other events.
"It is the single biggest fundraiser we have," Tate says. "We have a goal of raising $120,000. It funds our exhibitions program for a year."
Even if you don't plan on buying, the good news is that other people do, enabling the Arts Center to offer its gallery exhibitions without charging visitors.
The art auction show is no different — while organizers hope you'll buy, it's always free to look.