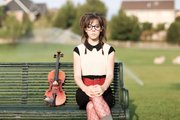 Lindsey Stirling
Dubstep violinist Lindsey Stirling will be performing at 8 p.m. Monday at the Granada, 1020 Massachusetts St. The show is sold out.
It's amazing, the power of social media. So says Lindsey Stirling, the dubstep violinist, the dancing, emotive pop-inspired classical music YouTube sensation.
Stirling, 26, is as bright and bubbly in conversation as she appears in one of her videos that has 50 million views. Before her sold-out show set for Monday night at The Granada, she spoke excitedly about selling out consistently on her "House of Blues-sized" tour and looking forward to an arena tour within a year, plus another record and collaboration with artists from the electronic world.
Her 2012 self-titled debut album, which included the song "Crystalize," the icy video of which is her most popular, is made up of 10 of her compositions — she's a frequent collaborator with vocalists and electronic producers, but also somewhat of a one-woman band, writing her own songs and directing her own videos.
The music is a mashup of electronica and dubstep, played on her signature violin. Her initial fanbase grew out of the online gamer culture, found via her YouTube covers of music from the video games "Skyrim" and "The Legend of Zelda."
Propelled by an appearance on the reality show "America's Got Talent" in 2010 and supported by "the most loyal fans," Stirling's story is one of art for fun's sake.
As a little girl from Gilbert, Ariz., she begged her family for violin lessons but chose not to study music at Brigham Young University to avoid burnout, she says.
A few years and a lot of Last.fm plays later, she's a composer without a traditional record deal but with big dreams. With her self-written collaborations of dreamlike, string-led "Mozart of dubstep" soundscapes, she's classically trained but popularly elected.
Here's more of her story, in her own words:
Alex Garrison: Tell me about how you got started, what led you to becoming a "YouTube star."
Lindsey Stirling: It's been amazing, the power of social media. I didn't even know much about it when I started but learned as I went, using Facebook and YouTube to get my music heard. I couldn't get labels to pay attention to me, so I thought I'd give up that route, sick of people telling me no and ignoring me. When I started using YouTube, that's when everything changed for me.
AG: What are the pros and cons to that approach to a career?
LS: It's awesome that you're 100 percent in control of everything. As an independent artist using social media, I get to do the things I love, and as a result, I only gain the fans that love what I do. You set yourself up to continue to do what you want, because those are the fans you've gathered. You don't have to wait for people to tell you to go in a direction — you can run with what you want. Heck, you custom build your own platform.
On the monetary side, you have to upfront all of your own costs, but then it's amazing that you don't have share earnings with a label on the back end. Every time someone buys one of my CDs, it goes to me and my producers, actually supporting me and not a huge corporation. Fans connect to that.
You have to start from scratch, and it's hard to build a career without promotion. That also makes fans loyal: they weren't told by radio or TV, they just found me on their own.
AG: You achieved fame through social media, but how did you come to the style of music you make? Was that always the plan?
LS: I really just thought, 'What kind if music do I actually listen to? That's what I should write.' So I started with covers to my favorite radio hits. Then I wrote my own, and things kept working.
Started when I was 6, and begged and begged for lessons. It was the one thing I stuck with, doing lessons and orchestra. Didn't want to get burnt out, so didn't study music in college. It's just ironic that this ended up being my career.
I wanted to keep music fun, and I'm actually pretty sure (that's) why it ended up becoming my career. If I had a more serious approach, I wouldn't have taken the risks I did. I would have done more what I thought was sellable.
By keeping doing something I just loved, I made it my life. I feel so lucky and blessed that I get to do music for a living because it was never the plan, I just worked super hard and did it for the sake of loving it.
More like this story on Lawrence.com