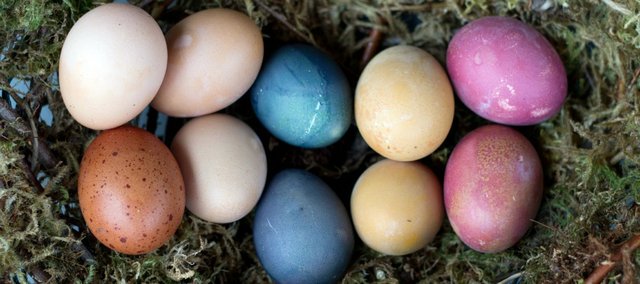 When I was a child, Easter was synonymous with spring.
I know that we had to have had a few years that were cold or rainy, but I don't remember them. I remember warmth and green grass and lengthening spring days that seemed to go on forever.
I remember hiding Easter eggs with my cousins — carefully dyed a few days before — for hours, until the eggs were so crumbly that the only thing to do was throw them at each other. That's right, our parents let us have Easter egg fights!
As a grown-up, Easter still feels like the real start of spring, but it seems like throwing eggs might be undignified. So instead, I set my hands to something a bit more adult — a lifelike nest and some naturally dyed eggs to use as an Easter centerpiece.
The nest was made mostly of materials collected in my backyard, with a bit of garden twine and an old bag of floral moss added-in. While I decided to make a more natural-looking nest, you could easily weave in bright strips of cloth or yarn to make it more colorful.
The natural dyes for the eggs were a complete "mad-science" experiment, and — if you try it — I encourage you to treat it the same way.
I used blueberries, beets, turmeric and the green tops from a bunch of radishes. The radish greens were disappointing, but the first three ended up bright and beautiful.
Other ideas for dye material? Red cabbage, onion skins, coffee, brightly colored spices like chili powder — dig around in your pantry and have fun.
Here are the full instructions.
Nest Materials
(Makes about a 12-inch diameter nest)
Garden clippers or wire snippers
Approximately 20 inches of chicken wire
Large mixing bowl to use as a mold
Garden twine, string, spare bits of yarn or fabric
Assorted thin sticks and twigs, cut to about 12 inches long and soaked in a sink of warm water for at least 15 minutes
Large safety pin
Moss (optional)
Nest Instructions
Press the chicken wire into the mixing bowl, folding over the wire as needed to mold the wire to the shape of the bowl. Using twine or string, tie the wire together where you've folded it to help it keep its shape. Trim around the top of the wire bowl, being careful to bend down any sharp wires that are left after trimming. Set the mixing bowl aside.
Begin weaving the sticks and twigs through the chicken wire. I found it helpful to spin the bowl a quarter-turn after each stick to keep it even. Press and shape the wire as needed to help keep it round. As needed, use extra twine to secure the sticks to the wire frame.
When it gets difficult to keep weaving sticks, thread twine, yarn or fabric strips onto a large safety pin and begin weaving it through the gaps. You can also tuck in bits of moss to help fill in your nest. When you're satisfied that your nest is finished, wet the whole thing down to help it "glue" together. Once it's dry, your nest is ready for eggs.
Egg Materials
Eggs
Vinegar
Dye material, about 2 cups for vegetation-type materials (blueberries, beets, red cabbage, onion peel), and 3-4 tablespoons for spices (turmeric, chili powder) or coffee grounds.
Egg Instructions
Using a separate pot for each color, add dye material, a few big glugs of white vinegar and raw eggs. Add just enough water to cover and bring to a boil.
Let the pot boil for about 15 minutes — long enough to hard boil the eggs — remove the eggs and allow to cool.
To get deeper color, let the eggs continue to sit in the dye bath for up to a few hours.
Once the eggs are cool and dry, arrange them in your nest, and have a happy spring!
More like this story on Lawrence.com