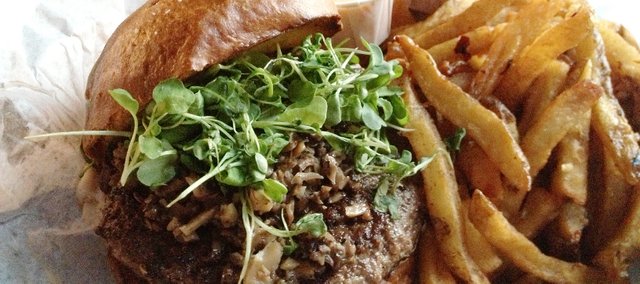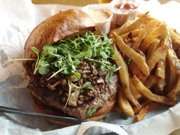 Consider beef Wellington — a special-occasion, labor-intensive European dish of an entire beef tenderloin covered in foie gras and duxelle (a reduction of minced mushrooms, shallots and herbs) and baked in puff pastry. Does this belong in a college-town burger and beer bar?
With a few modifications, yes.
Swap the tenderloin for a Kobe beef patty and the puff pastry for a soft, buttery brioche bun. Top with truffled mushroom duxelle, foie gras mousse, tarragon aioli and a heap of delicate local micro-greens, and — voila! — beef Wellington becomes the Wellington Kobe Burger, ready to eat on a barstool with a pint of beer and game of trivia.
Where to get it: Dempsey's Burger Pub, 623 Vermont St.
What you'll pay: $11
Try it with: Truffle fries, for $2 extra. Order them with Truffle Cream, Roasted Garlic Aioli or one of Dempsey's other homemade sauces.
Also on the menu: More burgers, including a couple of additional Kobe beef choices, a few veggie options and a handful of other beef patty creations such as the Picante (pepperjack, spicy pepper puree, jalapeños and hot sauce) and the Au Poivre (peppercorn-crusted with bordelaise, house mustard and arugula). Plus salads, chicken wings and black cod fish and chips.
— Off The Beaten Plate highlights some of the more exotic, oddly named or inventively concocted (for better or worse) dishes from local menus. Know of an offbeat menu item we should check out? Email food and features reporter Sara Shepherd at sshepherd@ljworld.com. Tweet her at Twitter.com/KCSSara.