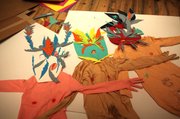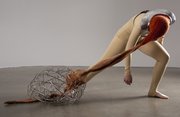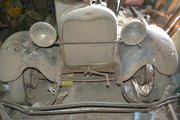 The art in this month's Lawrence Final Fridays covers the gamut, from a photographer who documents stalwart items from the history of the heartland to a forward-looking artist known for ephemeral set designs in Hollywood, to a group who will be celebrating gifts from the Earth to an individual ruminating on the effect humans are having on the environment.
And if that isn't enough March Madness for you, the Lawrence Arts Center (940 New Hampshire St.), Hobbs Taylor Lofts (Eighth and New Hampshire streets) and the 1109 Gallery (1109 Massachusetts St.) are offering opportunities for participants to take a more active role in the arts community.
Abe Eitzen photography
From 6 p.m. to 8 p.m., the Watkins Community Museum of History (1047 Massachusetts St.) is featuring 30 images by photographer Abe Eitzen.

"They're mostly old barns and cars," Eitzen says. "I am 76 years old, so I figure I can take pictures of old stuff."
After 50 years working as a freelance photographer, taking portraits, covering weddings and capturing sunsets, Eitzen says that he has finally found the niche he's been looking for: cars, barns and "things as old as I am!"
But one look at the work and you realize that Eitzen's interest in history goes way back, for among the photographs mostly shot in and around Colby are four images from the 1950s taken in a junkyard in California. (Look for the "Impeach Earl Warren" sign.) It is the same junkyard where Eitzen purchased his first car, a 1921 Model T, when he was in high school.
"History is written based on major events," Eitzen writes in his artist statement, "but (to) really understand our past, we must look at the images of what lives were like for regular people."
Art from a music video
If your taste in art leans more toward the avant-garde (Remember Isabella Rossellini's bug seduction film series in 2010?), check out the show at The Invisible Hand (846 Pennsylvania St.). Friday's event caps off a week of activities by production artist and costume designer Andy Byers.
A graduate from the Kansas City Art Institute, Byers went on to earn a master's degree from Ohio State University and make a name for himself for his innovative costume designs and remarkable work with paper, a medium he calls his equivalent to "fine oil paints and horsehair brushes."
Byers has returned to the Midwest to collaborate on a film project with local band Hospital Ships. Visitors can get a closer look at the costumes and set elements from the video at the East Lawrence gallery.
Music for a Good Friday
For those who want to acknowledge that this Final Friday is also Good Friday, The Amazing Grace Club at New Life in Christ, a Community of Grace Church (619 Vermont St.) will be performing at 6 p.m.
"We have a band and singers," says the Rev. Paul Grey, "and we'll do high-energy contemporary Christian music."
'Waves in Black'
The Bourgeois Pig (6 E. Ninth St.) is featuring something altogether different. "Waves in Black" is from artist Tristan Belle, who created the works after the 2010 Deepwater Horizon spill in the Gulf of Mexico. The show is a "meditation as well as a lamentation on our human impact on the ocean."
Lawrence Community Workshop
And if that is not enough variety for you, check out Hobbs Taylor Lofts. Activities begin at 5 p.m. with a virtual walkthrough of the Lawrence Community Workshop, a new workspace planned for the Warehouse Arts District.
At 6 p.m., Kansas University students will present a performance, "projection ... identification ... empathy" designed to reflect vulnerabilities and limitations in mobility.
At 6:30 p.m., 22 local and regional painters, sculptors, photographers and mixed-media artists will present their best while pianist Ariana Krasniqi plays music from Schubert, Chopin, Bach and Mozart.
Arts Madness
The 1109 Gallery has its own version of March Madness as 64 artists compete for the opportunity for a solo exhibition at the new art space at Ninth and New Jersey streets.
Friday is Round 2, and guests to the gallery and can narrow the field from 32 to 16.
You can also vote for your favorite artwork at the Arts Center with bids on silent auction items now on display in the galleries as part of the annual Benefit Art Auction.
Just make sure you're there at 7 p.m. and have brought your funk (or at least some funky costumes) so you can participate the Arts Center's version of the Harlem Shake.