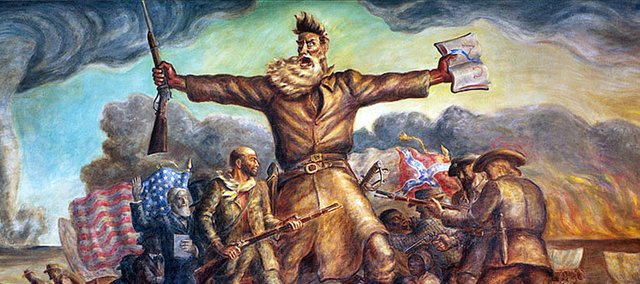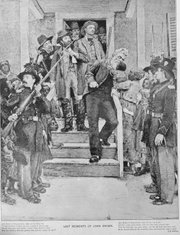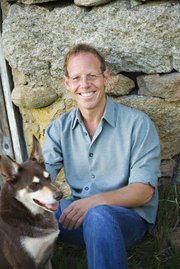 Many people debate the tactics of John Brown. What they don't dispute is that the famous abolitionist changed the course of American history by, in effect, sparking the Civil War.
Two men who have studied and written about Brown extensively will talk in front of a live audience at 7:30 p.m. Thursday, April 4, at Liberty Hall. The event, "Reconstructing John Brown," is part of the Lawrence Public Library's year-long 1863 Commemorate Lawrence observance of the 150th anniversary of Quantrill's Raid.
Pulitzer-Prize winning journalist and historian Tony Horwitz will be interviewed by Jonathan Earle, a professor of history at Kansas University, on the life and legacy of the anti-slavery fighter. Horwitz wrote the book "Midnight Rising: John Brown and the Raid that Sparked the Civil War" about Brown's surprise 1859 attack on a Harper's Ferry, Va. (now West Virginia), armory to free and arm slaves. Kansans might remember Brown more for when, in response to the May 1856 sacking of Lawrence, he killed five slavery supporters in Pottawatomie and led abolitionist forces at the Battles of Black Jack and Osawatomie.
Horwitz grew up in the nation's capital, about 60 miles from Harper's Ferry. A Civil War buff, he often wondered what started the conflict in the first place. That curiosity led him to Brown.
Horwitz's research eventually brought him to eastern Kansas, where Earle, who calls Horwitz "one of the best popular history writers out there," and Lawrence historian Karl Gridley took the author on a tour of the sites of Brown's most famous battles. Along the way, Horwitz learned just how much of an impact the state had on the fight to end slavery.
"The Civil War essentially began in Kansas," Horwitz says. "This is a surprise to many Americans outside your region. They know the phrase 'Bleeding Kansas' but they don't know how critical Kansas was."
Said Gridley: "I don't know if there would have been a Bleeding Kansas if there wasn't a John Brown. … He was very involved in the direction of Kansas and the direction Kansas would take in the Civil War and the civil rights movement."
During the course of his research, Horwitz came across others things that surprised him about Brown.
"He was by no means a lone gunman. He not only had many men fighting with him … but also tremendous support behind the lines from very prominent Northerners, including transcendentalists, wealthy businessmen, figures like Frederick Douglass," the author remarked. "Another thing is that his life up to Kansas was in some ways quite conventional. He was a businessman, a family man, a devout Christian; his ancestors fought in the Revolutionary War. He wasn't from the fringes of American society."
To this day, people argue over Brown's methods. He saw violence as the only way to overturn slavery, which was itself a violent act.
"He's a very problematic figure," Horwitz says. "I think most of us today feel he was on the right side of history in believing slavery was the great sin of our nation and had to be purged. But his tactics made many people uncomfortable … Unlike most other abolitionists, who were devout pacifists, he felt slavery was a state of war and must be met in kind. … I think the Civil War suggests he was right in believing that only bloodshed could resolve this conflict."
Prior to Brown, Earle says, abolitionists had tried using moral suasion, or convincing slaveholders that they were sinning in the eyes of God.
Brown is "just a lightning rod for however you come down on the issue," Gridley says. "A lot of people consider him a madman and a terrorist; a lot of people consider him a martyr or a freedom fighter."
Even supporters admit Brown wasn't without his mistakes. Earle cites his ineffective plan to give blacks farmland in upstate New York, as well as the Pottawatomie massacre, where he and his men hacked apart with broadswords five pro-slavery settlers who themselves didn't own slaves.
Brown's influence can still be felt in modern-day America. Earle points to Vietnam War protestors, the Black Panthers and anti-abortion activists as groups who have looked to Brown for inspiration.
"John Brown is right in the middle of our society," Gridley says. "It's like that mural in Topeka, with John Brown towering above both sides with a rifle and a Bible."
Horwitz says the rights to turn his book into a cable-television series are currently being negotiated.
The program is free and open to the public. Doors open at 7 p.m. Books about Brown by Horwitz and Earle will be available for sale at the event.