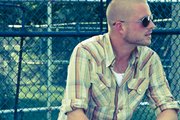 If you go
Collie Buddz, along with Cris Cab and New Kingston, will be performing starting at 8 p.m. Thursday at the Bottleneck, 737 New Hampshire St. Tickets to the all-ages show are $17.50-$20.
Calling all reggae fans — Collie Buddz with plans to light up the Bottleneck stage with his music Thursday night.
The Bermuda-raised reggae artist has been traveling North America for the "Light it Up" tour for about two weeks, but already feels strongly about his chemistry with all of the performers. Buddz seemed confident as he chose one word to sum up his expectations for the Bottleneck show: "vibes."
"We just started [touring], but it feels like it's going to be the best one that we've had so far," Buddz said.
Buddz has been doing shows with Brooklyn-based New Kingston for six years now. The group comprised of three brothers and their father blends reggae with hip hop and R&B;, putting their own New York twist on a traditionally Jamaican sound. Buddz describes his interaction on stage with the family band as "perfection."
"You almost don't need to say anything. You just look at one of them and they know" he said, explaining how each of them is so in sync with one another that they can always anticipate the next move.
If it's not clear from his name, Buddz is not shy of his love for a certain herb. Fans in the crowd on Thursday can expect to hear the hit responsible for the kick start of Buddz's career, "Come Around." Found on his first, self-titled album, this weed anthem released in 2006 spread swiftly across seas, propelling him to the top of the Billboard reggae charts.
Artists including Busta Rhymes, G-Unit, Shaggy and Cypress were inspired to remix the single, contributing to the popularity of the anthem. Buddz was the last person expecting this reaction.
"It just took off so fast that I kind of didn't know what to do," Buddz said. "It was baptism by fire."
He wasn't prepared for the fame, he said. Having just graduated in 2001 from Florida Full Sail University with an associate's degree in recording arts, Buddz wasn't used to doing radio interviews or publicity stunts of the like. He had to embrace stardom right away.
Now the international star is more than comfortable in the spotlight, as he delivers roots-inspired conscious reggae and fast-paced dance hall music to audiences all over the world. He also recently appeared on Rasta convert Snoop Lion's (Snoop Dog's reggae alter ego) album "Reincarnated," which was released Tuesday.
Buddz said he likes to "feed off the music" becoming involved in the recording, producing and mixing aspects of his own tracks.
"I put on a few hats when I'm in the studio," he said. "The creative aspect of being able to do everything yourself is a lot of fun. I never know what I'm going to come up with."
More like this story on Lawrence.com