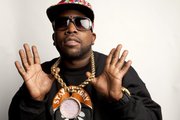 If you go
Big Boi will play the Granada at 8 p.m. Sunday. Tickets are $25 in advance and VIP tickets are $75. Killer Mike and Fishhawk will open the show.
When you're half of one of the biggest hip-hop acts of the last 20 years, scoring No. 1 hits and selling out tours, it could be easy to stick with the familiar formula. But Big Boi, half of Outkast, isn't interested in that.
"If y'all don't know me by now, y'all ain't never gonna know me," Big Boi says on "Ascension," the first track on "Vicious Lies and Dangerous Rumors," his new solo album. The line comes up again later in the record, and it's not a reference to an old soul song that used the same line.
"It's basically saying that if you thought the music sounded just one type of way, you're sadly mistaken," Big Boi says. "I like to make new sounds, and it's never gonna be the same thing. It's always, every time you go to make a record, don't try to re-create things that you've already done; it's just like looking for something else... If you thought it's just gonna be the same as the last record, nah, it's gonna be something else."
Big Boi will play at the Granada this Sunday, and while he may be touring to support a new record and has his focus fully on the future, it doesn't mean he's turning on his back on what got him where he is. The shows on his world tour will feature a heavy dose of tracks from the new record, but Big Boi says he doesn't take his fans for granted, and he plans to give the people what they want.
"I've been playin' it around since the album came out in December, and they love it, man. They crank the mosh pit up, crowd surf and have fun. That's what it's all about. That supreme positive energy, man, just giving it up, giving the audience a treat," Big Boi says of his live sets. "We got the full band, drummers, guitarists, horns, background singers. It's like a high-powered, electrical revival type music. It's a mix of everything at the show, from Outkast's first record 'Southernplayalisticadillacmuzik' up until my latest solo record ... So we're gonna jump in the time machine and we'll just hop back and forth, man. We'll do a jam from every era."
Those eras include songs that topped the charts and others that threatened the top spot, including "The Way You Move," "Miss Jackson," "Rosa Parks" and a host of others. Big Boi and his Outkast partner in crime, Andre 3000, have a proven track record of success, but he doesn't view that as either a free ticket to do whatever he wants or an obstacle to success.
The most important driving factor in creating new music is being just that — new. He's in the studio year-round, but knows he can't just rehash things when putting an album together, be it a solo collection or Outkast record.
"I mean, you just don't even really think about what you've done in the past. It's there and there's a track record and a legacy, but you have to look forward, you know, and stay in the groove of uncharted territory," Big Boi says of creating new music. "So yeah, I mean it's good for the fact that there are built-in fans and things like that, but you gotta keep 'em satisfied with good music."
After taking the current tour throughout the United States and Europe, he has both film and TV projects in the works and will continue to record, though he declined to say whether it would be for another solo album or a new Outkast effort. But balancing a solo career with an established hip-hop juggernaut and finding time to fit in film, TV and other projects aren't about to slow him down.
"No, no, the challenge is what keeps me excited about making new music," he says. "'Cuz once you tap into that new sound and you know you've got it, it's just like a gold miner looking for gold and they strike it. Or like somebody digging for oil and they hit that pipeline, it's just on like Donkey Kong."
More like this story on Lawrence.com