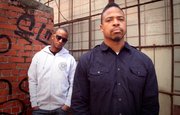 If you go
Zion I, with supporting bands Approach, Deep Thinkers and Chase Compton, will perform starting at 8 p.m. Monday at the Granada, 1020 Massachusetts St. Tickets to the all-ages show cost $12 in advance and $14 the day of the show.
MC Zumbi, from hip hop duo Zion I, admits his expectations of unexplored Kansas are rather limited.
"I know there will be some corn fields somewhere, right?"
This isn't the first Midwest tour for he and DJ AmpLive, but this will be the first time they have graced a stage in Lawrence. In hopes of connecting with fans they don't usually reach touring, Zumbi said Zion I is bringing mad energy, fresh freestyles, live beats and heavy lyrics of 2012 album "ShadowBoxing" to the Granada on Monday night.
"I think live shows are the mastery of what we do," Zumbi said. "We'd like to bring in some new fans, and see if we can come back."
The concepts behind "ShadowBoxing" have much to do with Zumbi's spiritual obsession with tai chi (originally called shadowboxing). The art of tai chi involves balancing one's energy and remaining calm in the face of anything, two themes that have resonated deeply with Zumbi within the past couple of years.
"I thought those were both dope principles that can be applied to living life and our music," Zumbi said.
Known for his positive, "conscious" lyrics, Zumbi said he channels his spirituality every time he sits down to write, letting music become a special spiritual practice of its own kind. He describes the process as one of self-reflection and self-discovery. This is why, he says, youth are relating more and more to Zion I's music.
"It's not really about materialism and money," Zumbi said." It's internal. It's a search within."
From synthy, electronic sounds, to dub step, to reggae beats, "ShadowBoxing" offers more than the classic hip-hop the Oakland duo has made a name for itself producing.
Being in the hip-hop game for more than 13 years now — Zion I's first album "Mind Over Matter" dropping in 2000 — Zumbi recognizes the culture of hip-hop as a changed industry.
"When we first started, hip-hop was a subculture," Zumbi said. "You could tell if someone liked hip-hop from their clothes or the sneakers they wore. Nowadays that is not necessarily true, unless they're over the top with it."
The convenience of the personal computer/laptop has cleared financial obstacles for aspiring musicians, he said, noting that studio time used to cost them thousands of dollars. Now anyone can record, making the system more open and democratic.
While he finds it inspiring to see the many people who have a voice, the downfall is the "regional flavor" that has gotten lost in the digital world of trend followers.
Different cities or neighborhoods no longer determine the style an artist brings to the table.
Those who follow the industry online adopt the mainstream vibe.
The quest for defending originality has died, Zumbi says. No one calls emcees out for "whack" lyrics or confronts those who steal hooks from other rappers, at least not like they used to.
"[Hip-hop] is still the voice for the people who don't have a voice. It's just more open than it used to be, which is good and bad."
Zion I's free EP "The Vapors" is available for listening and download on zionicrew.com. Zion I is already working on the next LP, and hopes to release it by the fall.
More like this story on Lawrence.com