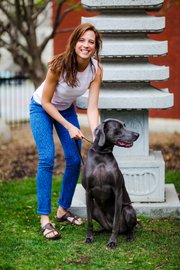 Name: Mallory Hancock
Age: 25
Relationship status: Engaged
Hometown: Chicago
Time in Lawrence: Six years
Occupation: Special ed teacher
Dream job: I would love to lead outside hikes somewhere.
What were you doing when scouted: Walking my dog, Maggie.
Describe your style: Mix and match. It's pretty much whatever I can find in my closet that I feel that I haven't worn in a while.
Fashion trends you love: I like colored jeans. I also like the retro hipster, earthy style that is coming back.
Fashion trends you hate: I think everyone has his or her own kind of style. So, if you can pull something off, it looks good.
Fashion influences: I really don't have any! I love Arizona Trading Company, so if I can find cool shirts, I'll put a pair of jeans on and I'm good.
What would you like to see more of in Lawrence: Restaurants that support locally grown and healthy food and that aren't way overpriced.
Less of? I honestly love this town. Maybe, less banks? I don't know why I just feel like that every time there's a new building, I'm like, "yes, there's something cool," and then darn, it ends up being a bank.
Tattoos or piercings: Just my ears.
Whom do people say you look like? No one in particular.
What type of music do you unwind to: I love good string bands and music by the Beatles and Bob Dylan.
Tell us a secret… Dentists can never tell if you floss your teeth or not.
More like this story on Lawrence.com