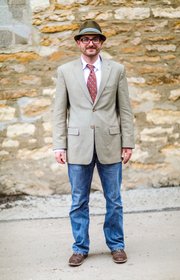 Name: Ryan Beckland
Age: 33
Relationship status: Married
Hometown: Stevens Point, Wis.
Time in Lawrence: Seven years
Occupation: I own a software company.
Dream job: CEO of a software company
What were you doing when scouted: I was writing a presentation.
Describe your style: I can't go all the way to wearing business-casual clothes, but I like to wear a tie and a jacket because I feel it makes me more focused and productive.
Fashion trends you like: Skinny ties and bow ties. I also like the way that suit jackets are being cut now with narrower lapels that make them more slim fit.
Fashion trends you dislike: I'm kind of not into the '80s retro thing that was taken too far.
Fashion influences: I have no clue! Maybe, I get some ideas from movies like "Snatch."
What would you like to see more of in Lawrence: Nothing comes to mind.
Less of? Kansas University T-shirts
Tattoos or piercings: None
Whom do people say you look like? My 2-year-old thinks that I look like chef Tyler Florence.
Tell us a secret… I spent a summer selling turkey legs at Renaissance festivals all over the country.
More like this story on Lawrence.com