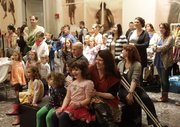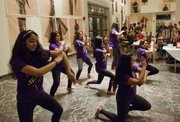 The weather may have been dreary, but the inside of Spencer Museum of Art was lively with music, dance and art during the annual Spring Arts and Culture Festival on Saturday.
The event was moved indoors after wet, cold weather prevented it from being on the front lawn of Spencer Museum, but all of the exhibitors and art was still displayed for visitors to browse, buy and observe.
"We want to highlight cultural organizations, artists and artist organizations throughout the community and make it easy for them to display work and to sell," said Chloe Seim, Spencer Museum of Art Student Advisory Board president.
The event, hosted by the student advisory board, included caricature artists, face-painting, booths with art for sale and activities like creating flowers made from tissue paper. Some of the exhibitors included jewelry-makers, local artists, students and organizations like Jeeva, Kansas University's South Asian Fusion Dance Team. Jeeva performed an Indian dance combined with other dance styles like hip-hop.
The festival, which is in its sixth year, has grown from a visual arts festival to one that includes music and culture.
"Originally we were just wanting to make a nice connection with our community audiences," Kristina Walker, the museum's director of education, said.
Live music is now a vital part of the festival. African Drum Ensemble at Kansas University, or ADEKU, has participated since 2009. Saturday the group performed an hour's worth of traditional West African music.
"This is a great opportunity for students and people in Lawrence to not only show their work and be recognized but to become more aware of what's happening," Seim said.
More like this story on Lawrence.com