With spring weather finally here, this is an excellent time to visit Kansas City for a leisurely stroll in one of the area's many parks and nature areas, which provide an oasis for city dwellers and an excellent day trip for Lawrence visitors.
Walk in a park
One of my favorite places for a hike is Weston Bend State Park, where a trail leads to a dramatic overlook of the Missouri river valley. While scouting out the bluffs or the Bear Creek trail below, it's easy to feel like a contemporary of Lewis and Clark.
After your walk, visit downtown Weston and cool off with a beverage at O'Malley's Pub, 500 Welt. St., which has been brewing the good stuff since 1842.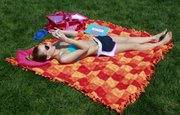 The Overland Park Arboretum and Botanical Gardens presents nature enthusiasts with carefully designed gardens as well as expansive nature trails. The Arboretum, located a mile west of U.S. Highway 69 on 179th Street, is composed of many smaller gardens, connecting to each other through stone or grass paths that meander alongside ponds, slopes, statues, gazebos and benches.
There is a $3 admittance fee for adults, and the gardens are free every Tuesday. Stop by and see the garden containers planted by different clubs and organizations, on display through May 19.
On the east side of the city, Swope Park is one of the largest municipal parks in the country. After hiking just a few minutes down the Fox Trail behind the Lakeside Nature Center (on East Gregory Boulevard about a mile east of 71 Highway), you'll be surprised at how quickly all signs of civilization drop away. Nearby, a dedicated group of volunteers has carved out a new network of biking and hiking trails.
For a scenic overview, take Swope Memorial Drive past the golf course to the Swope Memorial, a stately but tucked-away monument and fountain honoring park founder Thomas Swope.
If you stop and listen, you might hear the cry of a lion from the Kansas City Zoo, which is just a stone's throw away. A disc golf park is located just off Gregory at Elmwood Drive, and two golf courses are also open to public use.
Just south of the Country Club Plaza, Loose Park is a loafer's paradise. On a warm day, the park looks like a Seurat painting, with couples spread out on blankets, reading, playing guitar, walking dogs or just lying on the grass.
With the peaceful sounds of drum circles and children's laughter floating through the park, it's tough to imagine that this former country club grounds was also the site of some of the fiercest Civil War fighting west of the Mississippi.
Pizza and ice cream
A visit to the park naturally calls for a cold scoop (or three) of ice cream, and right next to Loose Park is one of the most delicious ice cream parlors around, Glace Artisan Ice Cream.
Glace features adventurous flavors designed by chocolatier Christopher Elbow, including lavender lemon, goat cheese and wildflower honey, Thai peanut curry and kiwi sorbet.
The KCMO location is at 4960 Main St., and there's also a Glace at 4535 W. 119th St. in Overland Park.
If you're hungry, try one of the five area Spin Pizza locations in the Kansas City area.
There's one next to Glace on Main Street as well as in Overland Park, Lenexa, Olathe and Lee's Summit. Spin is a chic, tasty outfit, with fresh ingredients, great salads and even homemade sangria. View a full menu at spinpizza.com.
Concerts
Two concerts stand out this week, one of which is free. On Friday, 20-year-old Canadian piano phenom Jan Lisiecki will treat audiences to a free concert at the Folly Theater at 7 p.m. To request tickets, visit the Harriman-Jewell Series website at hjseries.com.
Also worth seeing this week is Bill Callahan, the baritone-voiced singer/songwriter/poet who has emerged from the gloom of his early project, "Smog," to release several solo excellent albums (I don't know anyone else who can sing the words "My Apocalypse" in a manner that's downright pleasant). Callahan returns to the Record Bar this Wednesday at 9 p.m. Tickets are $12 for this 18-and-over show.
— Lucas Wetzel is a KU graduate and Kansas City native who has worked as a writer, editor and language trainer in the U.S. and Europe. Know of an upcoming event in Kansas City you'd like to see featured in Kansas City Connection? Email us about it at kcconnection@ljworld.com.