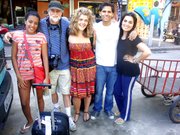 A Kansas University student from Lawrence who has been widely recognized for her photography from a poor Brazilian neighborhood has been chosen for a Jack and Lavon Brosseau Creativity Award, KU's Spencer Museum of Art announced.
Sarah Stern, a Latin American Studies and Journalism student, traveled to Rocinha, Brazil, where she immersed herself in a community known by outsiders as a slum but sought to portray a side more often left untold.
"Any normalcy and strength in the community was typically disregarded in light of the violence and drugs Rocinha was recognized for," Stern wrote in her award application. "While the Portuguese word Favela literally means a slum, the residents of Rocinha couldn't agree less with this label synonymous with ideas of extreme poverty, violence, gangs and drugs. They call Rocinha comunidade or community. And this is exactly what we found: a lively, welcoming community."
The Journal-World featured Stern as a Free State High School student in 2009, when she won an ArtStar award; in 2011, after she spent three weeks in Rocinha with photographer Gary Mark Smith and videographer Carlos Beltran; in 2012, when Glamour magazine named her one of the top 10 college women of the year; and again in 2012, when her photographs were released in a book, "Favela Da Rocinha, Brazil."
Open to KU undergraduate students for writing and multimedia projects, the Brosseau Creativity Awards recognize outstanding creativity and originality, particularly work that demonstrates risk-taking and critical thinking.
Other 2013 recipients are Jenny Curatola for her performance project, "One Wild and Precious Life," and Shawn Patterson, for a collection of poetry. Receiving honorable mention are Thomas Birdeno for his short story, "How to Grieve a Dead Dog," and Anna Davis and Amanda Schneider for a collaborative installation titled, "Hello Mother: Just a few lines so that you know I am fine."
The awards form part of the Spencer Museum's mission to strengthen, support and contribute to academic research, as well as to foster interdisciplinary exploration at the intersection of art, ideas and experience.