With "Saving Mr. Sharp," a literary mix of mystery, science fiction and the sixth-grade, Lawrence teacher and author Dan Karasek takes aim at hooking elementary- and middle-school students on Kansas history.
Karasek, who teaches sixth-grade language arts and social studies at Lawrence's West Middle School, says he wrote "Saving Mr. Sharp" for readers in grades three through six.
The relatively short novel, about 140 pages, details the adventures of sixth-grader Gwen Baker as she tries to solve a mystery surrounding her American history teacher.
Why do Mr. Sharp's arms have those strange bruises? Why does he fall into brief trances while teaching?
Rumors abound. Maybe he's a spy, catching bad guys on weekends. Maybe he's a pro-wrestler or circus-performer by night.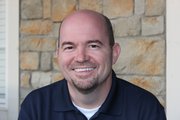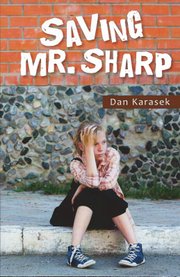 Curious, smart, impulsive and persistent, Gwen decides she's going to get to the bottom of it. The truth, Gwen discovers, turns out to be more incredible than any rumor.
Karasek says he got hooked on history about 10 years ago as a fifth-grade American history teacher.
"I wondered what I would have done if I was in the Revolutionary War," he says. "What side would I have taken? Would I have been a Patriot or a Tory?"
As a boy, Karasek didn't care about history. Though he did the coursework, he says he was like many young students who ask, "why do we have to learn about stuff that happened hundreds of years ago?"
The answer, he says, is that history explains the present.
"Saving Mr. Sharp" takes that explanation a step further. The book shows how people in the past are much like people today.
"They thought about different things since they lived in different times," Karasek says, "but they had their hopes, worries, dreams and fears — general human qualities all of us have."
Karasek sets his tale in the fictional town of Hazel, Kan. Readers may spot similarities with Lawrence, like Hazel's community museum, which is inspired by the Watkins Community Museum of History.
Don't look for specific people you know, however. Karasek says his characters are based on general observations of students he's taught during his 15-year career, and no real-life individuals.
"Saving Mr. Sharp" is available at the Raven Bookstore, 6 E. Seventh St., and the Watkins Community Museum, 1047 Massachusetts St. It's also on sale at Amazon.com.
Additionally, Karasek has donated copies to all Lawrence elementary schools and West Middle School.