It's not every day that your hobby gets you a $25,000 bonus.
For Yellow Red Sparks frontman Josh Hanson, his fascination of words granted him the highest honor at this year's International Songwriting Competition.
Described as a "songwriter of rare ability," and known for creating songs with haunting melodies and beautifully honest lyrics, it's hard to believe that this wordsmith didn't see the grand prize award coming for his song "Monsters with Misdemeanors." In fact, he said, nothing in the universe seemed to be aligning throughout the submission process.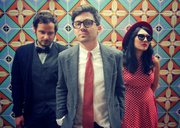 If you go
Indie-folk trip Yellow Red Sparks will perform at The Bottleneck, 737 New Hampshire St., at 8 p.m. Monday.
"I sent in everything late," Hanson said. "The email they sent me got in my spam folder. I sent them a picture of me and my cat because I didn't have any pictures of myself as a solo artist. It was just one of those things."
Whether it is his obsession with word games or the musically inclined family he is a part of (his father is a songwriter and his brother is a traveling musician), Hanson beamed with excitement for the unexpected recognition. He doesn't have any formal writing experience, he said, calling this now award-winning talent a hobby.
California indie-folk trio he's a part of will play at the Bottleneck this Monday night at 8 p.m., showing Lawrence an intimate and genuine side of their self-coined brand of music: cinematic folk.
"I'd describe it as taking elements of old cinema and old Hollywood and incorporating that into songs with folk music and songwriting," Hanson said.
Originally, Hanson was a solo artist, performing in coffee shops. After releasing his demo CD, their now drummer Goldy (it's just Goldy) reached out to him, giving him a recording of the same demo with drum tracks added to the mix. The two started playing together, later adding one of Goldy's drum students, Sara Lynn Nishikawa, who also plays upright bass. Hanson was surprised by how much he liked the new sound.
"I just never pictured it being a band," he said. "[Goldy] helped me realize that."
Their first music video for the single "A Play to End All Plays," directed by Claire Marie Vogel, was recently featured on NPR's All Songs Considered. The group acted out a circus sideshow, revealing a dark, theatrical portrayal of a failing relationship. Hanson felt creeped out while creating the video, alluding to the haunting instrumentation of the song.
"There was this butcher knife in the studio and we kept grabbing it and making stabbing motions because it felt like this bold horror film because of the sound of the strings," Hanson said. "The whole record has a whole cinematic vibe to it."